A comparison of foraging between the South American and Cabot's Tern in southern Brazil
Keywords:
Cabot's Terns, South American Terns, feeding ecology, prey, foraging
Abstract
Despite being widely distributed in South America and having relatively large populations, little is known about the trophic ecology of the South American Tern (Sterna hirundinacea) and Cabot's Tern (Thalasseus acuflavidus). In Brazil, South American and Terns Cabot's breed in mixed colonies from the state of Espírito Santo to Santa Catarina. Here, we describe results of a study of the feeding ecology of these two species during the reproductive seasons of April to October of 2003, 2005 and 2006 from Cardos Island, Santa Catarina, Brazil. A total of 6248, 5140, and 4006 fishes were delivered to chicks or females by South American Terns; and 1157, 628 and 98 fish and or other prey items by Cabot's Terns during the breeding seasons of 2003, 2005, and 2006, respectively. Prey items identified included eight, seven and nine fish families for South American Terns; and, five, three and two families for Cabot's terns, in the three respective years. The number of food deliveries per chick for South American Terns was between 09:00 and 10:00 am in 2006, and between 11:00 and 12:00 am in 2005. Cabot's Terns chicks were fed in the early hours of the morning until late afternoon.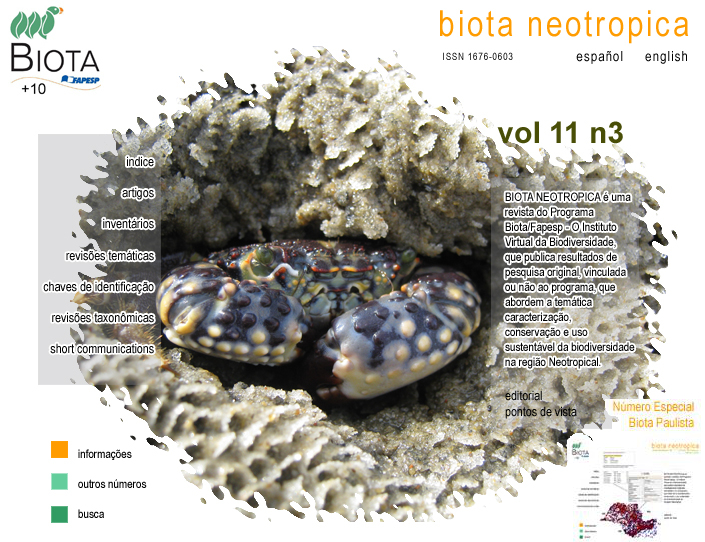 How to Cite
Fracasso, H. A. A., Branco, J. O., & Barbieri, E. (2011). A comparison of foraging between the South American and Cabot's Tern in southern Brazil. Biota Neotropica, 11(3). Retrieved from https://www.biotaneotropica.org.br/BN/article/view/847