The birds at Ilha Comprida beach (São Paulo State, Brazil): a multivariate approach
Keywords:
seabirds, ecology, Ilha Comprida, migration, shorebirds, sandy beaches, multivariate analysis
Abstract
Birds were censused weekly from January 1999 to January 2001 along Ilha Comprida beach, a barrier island off São Paulo, southeastern Brazil. To evaluate the similarity in the bird's species composition among the weekly surveys, species counts data were arranged on a data matrix with 144 weekly surveys, analyzed following a multivariate analysis protocol. We counted a total of 205,399 individuals and 52 species. Migratory birds were an important component of the avifauna (maximum N = 21,294 individuals and 14 species). The largest numbers of birds were observed during summer, when Nearctic migrants arrive. All 14 of the most common species were migrants, including Calidris alba, Sterna maxima, Charadrius semipalmatus, Sterna hirundo, Thalasseus maximus, Pluvialis dominica and Calidris fuscicollis. The most common residents were Thalasseus s. eurrygnathus, Larus dominicanus, Coragyps atratus, Fregata magnificens and Sterna hirundinacea. Recently, most of the peripheral area adjacent to the beach has been urbanized and rapid habitat change is progressing. In this paper, we establish a reference that will allow future comparisons to assess the impact of such urbanization on the composition of bird populations on Ilha Comprida.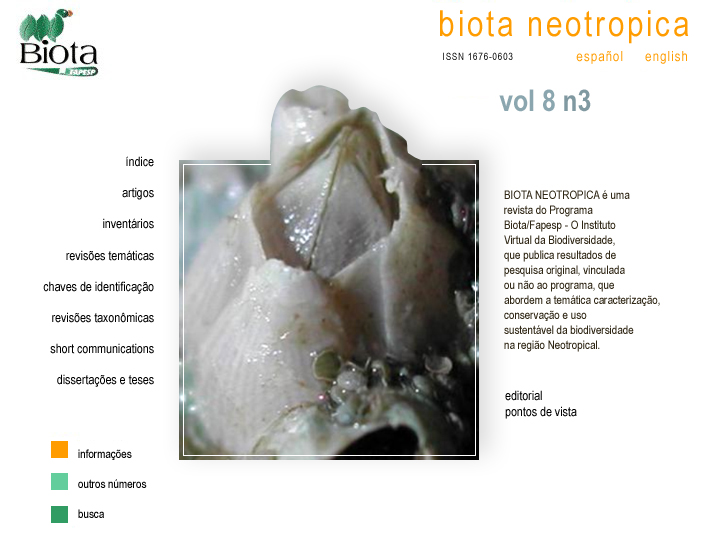 How to Cite
Barbieri, E., & Paes, E. T. (2008). The birds at Ilha Comprida beach (São Paulo State, Brazil): a multivariate approach. Biota Neotropica, 8(3). Retrieved from //www.biotaneotropica.org.br/BN/article/view/415