Reproductive biology of Cabot's Terns on Cardos Island, Santa Catarina, Brazil
Keywords:
breeding, Cabot's Terns, Brazil, conservation, reproductive success
Abstract
Cabot's Terns Thalasseus acuflavidus (Latham, 1737) are widely distributed along the Atlantic coast of South America from the Caribbean Islands (12º S) to the region of Porto Deseado, Argentina (46º S). Daily observations were conducted on the Cardos Island during 2003, 2005 and 2006 to determine timing and nesting success, and the reproductive biology of the Cabot's Terns nesting there. The first adults arrived at the colony from 22 April to 15 May during the three years recorded; a total of 144 nests were recorded in 2003, 174 in 2005 and 50 in 2006. Observed incubation time was 24.1 ± 0.35 days, and mean egg size was 5.15 ± 0.02 cm in length and 34.30 ± 0.25 g in weight. Hatching success was lowest in 2003 and highest in 2006, with natural causes (such as nest abandonment, flooding, inter and intra-specific fight) being the main cause of loss. The first eggs hatched in July in 2003, and in June in 2005 and 2006. Overall nesting success was lowest (4.00%) in 2006 and much higher (36.1% and 27.01%, respectively) in 2003 and 2005.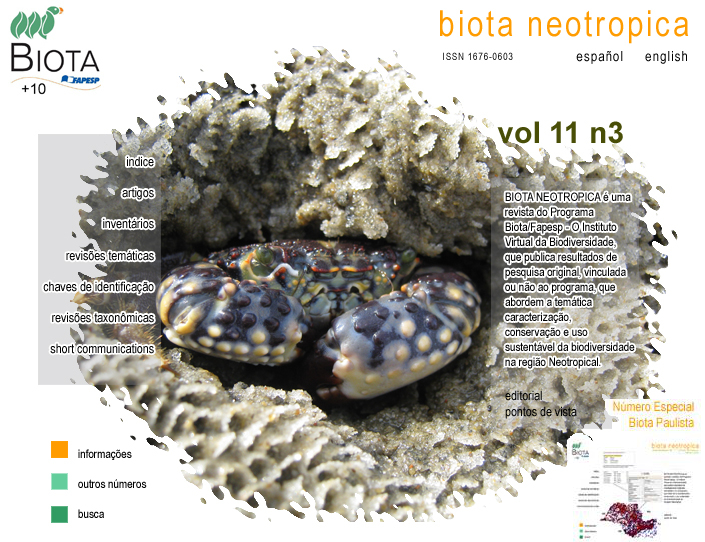 How to Cite
Fracasso, H. A. A., Branco, J. O., & Barbieri, E. (2011). Reproductive biology of Cabot's Terns on Cardos Island, Santa Catarina, Brazil. Biota Neotropica, 11(3). Retrieved from https://www.biotaneotropica.org.br/BN/article/view/836