Leptophlebiidae from Rio de Janeiro State, Brazil: nymphal habitats, mesohabitats, and habits (Insecta: Ephemeroptera)
Keywords:
Atalophlebiinae, mayflies, aquatic insects, ecology, Neotropics
Abstract
The leptophlebiid mayflies from Rio de Janeiro State are still poorly known from faunistic, taxonomic and biological points of view. In this paper were compiled biological data about 14 genera (Askola, Farrodes, Hagenulopsis, Hermanella, Hylister, Leentvaaria, Massartella, Miroculis, Needhamella, Perissophlebiodes, Thraulodes, Traverella, Ulmeritoides, and an undescribed genus) and about 25 morphospecies from Rio de Janeiro. Most of the genera and species of this family are related to rithral habitats, occupying places with deposition of allochtonous organic matter.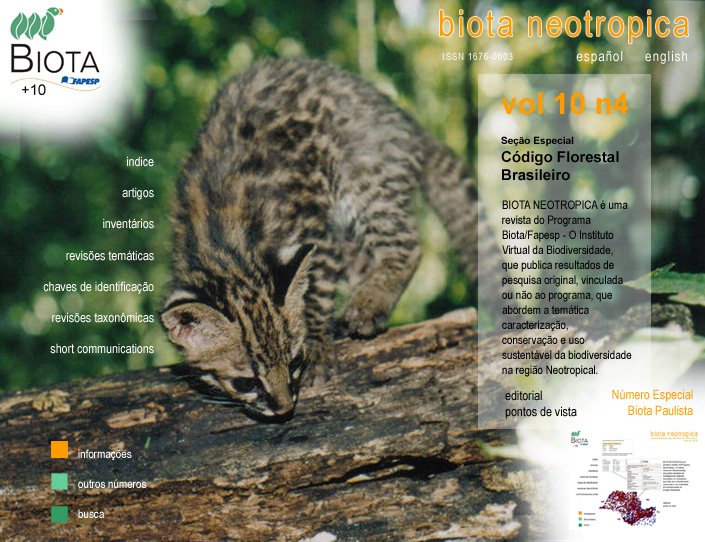 How to Cite
Da-Silva, E. R., Nessimian, J. L., & Coelho, L. B. N. (2010). Leptophlebiidae from Rio de Janeiro State, Brazil: nymphal habitats, mesohabitats, and habits (Insecta: Ephemeroptera). Biota Neotropica, 10(4). Retrieved from https://www.biotaneotropica.org.br/BN/article/view/722