Relative size of gills of Cloeodes jaragua Salles & Lugo-Ortiz, 2003 (Ephemeroptera, Baetidae) on pool and riffle areas of streams at the Atlantic Rainforest
Keywords:
Ephemeroptera, aquatic insects, dam, stream, gills relative size, water speed
Abstract
Physical environment of streams present many challenging factors to the organisms living under its influence. Water speed, one of the most important factors affecting such environments, has local influence on substrata, temperature, and oxygen levels. It acts determining species distributions and morphological and behavioral adaptations of organisms. The aim of this study was to assess the relative size of gills of Cloeodes jaragua on two mesohabitats: lentic environment (river dam) and lotic environment (fast flowing area of a stream) in Parque Nacional da Serra dos Órgãos (RJ, Brazil). Twenty individuals were collected on each environment and width of the head and gills were taken. Lentic environment showed nymphs with broader and more constant measurements than the lotic environment. The former, despite being composed of nymphs on different stages of development, presented individuals with narrower gills. Both, head width and environment type explained gills size, showing that streams habitat conditions are important in shaping the morphology of these animals.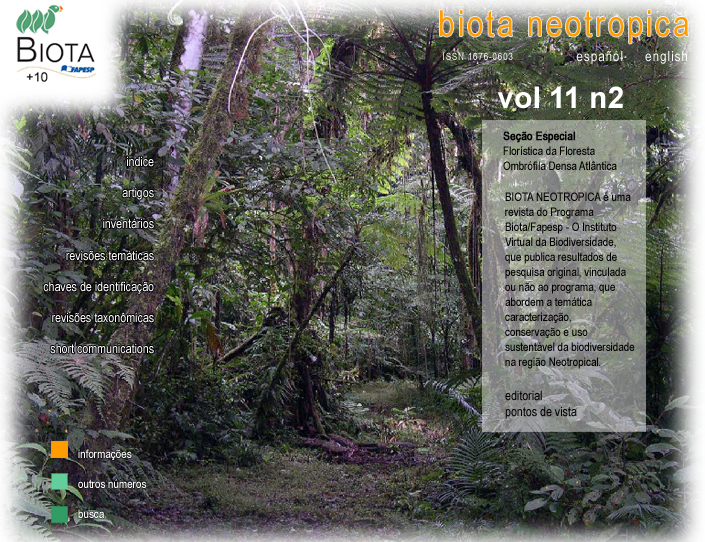 How to Cite
Gonçalves, I. C., Cid, B., Mortati, A. F., Quesado, L. B., & Nessimian, J. L. (2011). Relative size of gills of Cloeodes jaragua Salles & Lugo-Ortiz, 2003 (Ephemeroptera, Baetidae) on pool and riffle areas of streams at the Atlantic Rainforest. Biota Neotropica, 11(2). Retrieved from https://www.biotaneotropica.org.br/BN/article/view/769