Deep-water Ophiuroidea (Echinodermata) from off Chile in the Eastern South Pacific
Keywords:
ophiuroid, deep-water, Chilean continental margin, Chilean abyssal zone, taxonomic diversity
Abstract
The ophiuroids collected during the Oceanographic Expedition PUCK (SONNE-156) in 2001, in the framework of the project "Interactions between productivity and environment along the Chilean continental shelf" were analyzed. Eight samples had ophiuroids; Fifteen species were distributed in the following families: Gorgonocephalidae (2), Asteronychidae (2), Ophiomyxidae (1), Ophiacanthidae (2), Ophiuridae (5), Amphiuridae (1), and Ophiolepididae (2). Four species were recorded for the first time from Chilean waters, i.e., Asteronyx loveni Müller & Troschel, Astrodia tenuispina Verrill, Ophiolimna bairdi (Lyman), and Ophiocten amitinum Lyman, and three are new, i.e., Ophiura (Ophiuroglypha) arntzi sp. nov., Amphiophiura gallardoi sp. nov., and Stegophiura wilhelmi sp. nov.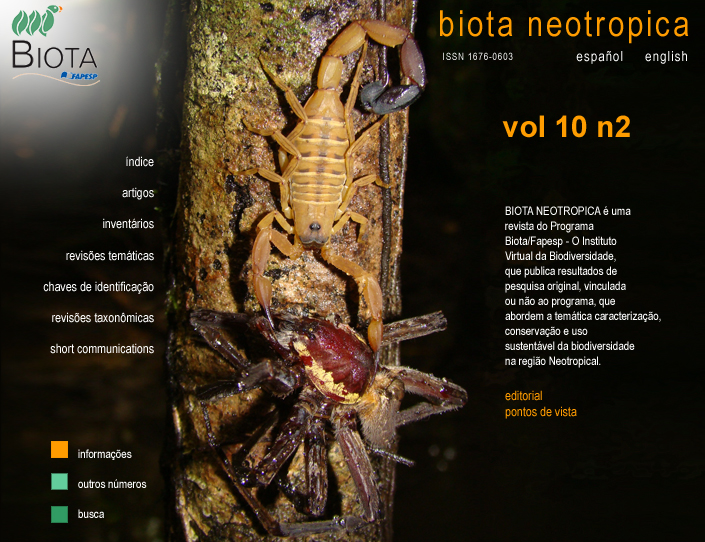 How to Cite
Manso, C. L. de C. (2010). Deep-water Ophiuroidea (Echinodermata) from off Chile in the Eastern South Pacific. Biota Neotropica, 10(2). Retrieved from https://www.biotaneotropica.org.br/BN/article/view/693