Echinodermata from Cabo Branco Beach, João Pessoa, Paraíba, Brazil
Keywords:
Echinoderms, distribution, biodiversity, northeastern Brazil
Abstract
The present study examined the fauna of echinoderms at Cabo Branco Beach, João Pessoa, state of Paraíba, Brazil. The beach was formed by the erosion of a sandstone terrace. Thirty two species from four echinoderm classes (Asteroidea, Ophiuroidea, Echinoidea and Holothuroidea) distributed among 18 families and 24 genera were identified. The number of identified taxons corresponds to 9.7% of the total number of species registered for the entire Brazilian coast, and demonstrates the significant diversity of echinoderm species in this area. Class Ophiuroidea was the most diverse, with 13 species, followed by Holothuroidea (10 spp.), Asteroidea (5 spp.) and Echinoidea (4 spp.). Among the recorded species, the following were new occurrences for the state of Paraíba: Ophiocnida scabriuscula, Ophiomyxa flaccida, Ophiactis lymani, Ophionereis reticulata, Ophioderma januarii, Ophiophragmus brachyatis, Thyone cognita, T. suspecta, Ocnus suspectus, Phyllophorus occidentalis, P. communis, Lissothuria sp., Holothuria grisea, Holothuria arenicola, Chiridota rotifera, Synaptula hydriformis, Echinaster nudus, Linckia guildingii, Lytechinus variegatus, Mellita quinquiesperforata and Leodia sexiesperforata.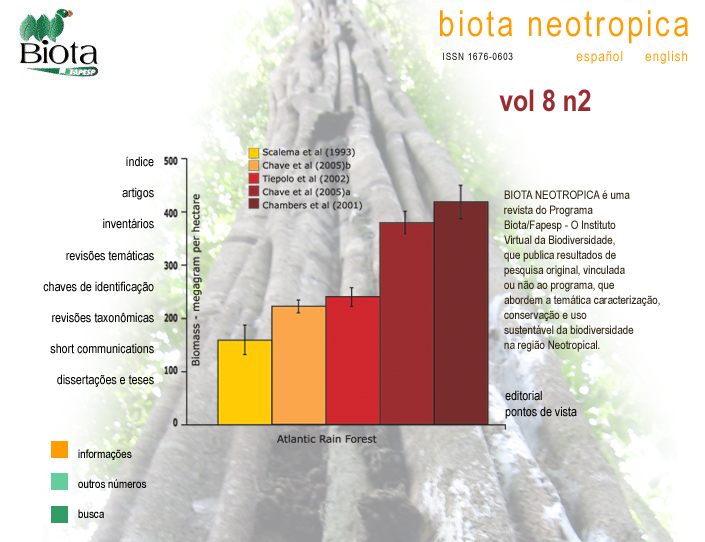 How to Cite
Gondim, A. I., Lacouth, P., Alonso, C., & Manso, C. L. de C. (2008). Echinodermata from Cabo Branco Beach, João Pessoa, Paraíba, Brazil. Biota Neotropica, 8(2). Retrieved from https://www.biotaneotropica.org.br/BN/article/view/404