Surface and subterranean ichthyofauna in the Serra do Ramalho karst area, northeastern Brazil, with updated lists of Brazilian troglobitic and troglophilic fishes
Keywords:
Bahia State, caves, troglobites, troglophiles, freshwater fishes
Abstract
After an ichthyofaunistic survey in several epigean (surface) water bodies of the Serra do Ramalho, southern Bahia, conducted in May 2007, 44 species were recorded; in addition, three non-troglomorphic (normally eyed and pigmented) and two troglomorphic species were recorded only in caves, totaling 49 species of fishes for the area, which represents a little more than one fourth of the total registered in the literature for the entire Rio São Francisco basin. In these caves, which have been studied since 2005, eight non-troglomorphic species were sampled and their presence in both epigean and subterranean habitats, associated to the lack of morphological differences, indicate that they may be either troglophiles (species encompassing individuals able to live and complete their life cycle either in the surface or in the subterranean environment), trogloxenes (individuals regularly found in subterranean habitats, but which must return periodically to the surface in order to complete their life cycle) or even accidental in caves. In addition, two troglomorphic species (with reduced eyes and melanic pigmentation when compared to close epigean relatives), belonging respectively to the genera Rhamdia and Trichomycterus, were recorded exclusively in caves, thus classified as troglobites. Interestingly, no epigean representative of the genus Trichomycterus was collected. The new data are integrated into updated lists of Brazilian troglobitic and troglophilic fishes, based on published data and new records recently confirmed.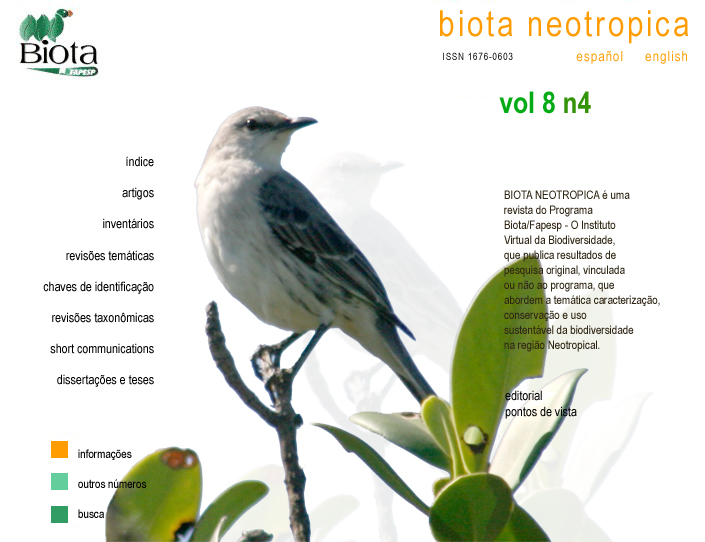 How to Cite
Mattox, G. M. T., Bichuette, M. E., Secutti, S., & Trajano, E. (2008). Surface and subterranean ichthyofauna in the Serra do Ramalho karst area, northeastern Brazil, with updated lists of Brazilian troglobitic and troglophilic fishes. Biota Neotropica, 8(4). Retrieved from //www.biotaneotropica.org.br/BN/article/view/459