Ichthyofauna of Rio Jurubatuba, Santos, São Paulo: a high diversity refuge in impacted lands
Keywords:
Atlantic Rainforest, conservation, endangered species, endemism, stream fishes
Abstract
Ichthyofaunistic surveys in the Atlantic Rainforest have been published in relatively few works, in spite of the major biological importance of this once vast biome which is rapidly vanishing due to disordered human population growth and natural resources overexploitation. The present study aimed to access the fish fauna of a relatively well preserved basin between the cities of Santos and Cubatão (SP), an area highly modified by human activities where recent ichthyofaunistic surveys are still missing. Collections were made during three field trips in Rio Jurubatuba, a medium sized costal river, and Riacho Sabão, one of its main tributaries. A total of 2773 specimens were sampled, representing 25 species from 14 families. Six species were primary marine using the upper reaches of Rio Jurubatuba. Twelve of the 19 freshwater species are endemic of the Atlantic Rainforest and four are present in regional lists of endangered species. Only five species occurred in both Rio Jurubatuba and Riacho Sabão. The most diverse family was Characidae, followed by Poeciliidae, Rivulidae and Heptapteridae. Phalloceros caudimaculatus was the most abundant species, followed by Poecilia vivipara and Geophagus brasiliensis. The study area is considered well preserved and due to its critical location, urges for conservation policies to protect its fish diversity.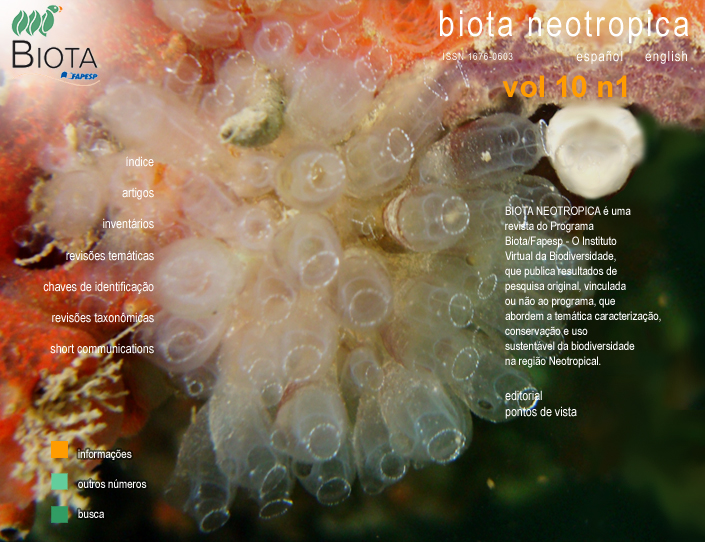 How to Cite
Mattox, G. M. T., & Iglesias, J. M. P. (2010). Ichthyofauna of Rio Jurubatuba, Santos, São Paulo: a high diversity refuge in impacted lands. Biota Neotropica, 10(1). Retrieved from //www.biotaneotropica.org.br/BN/article/view/606