Glyceridae Grube 1850 (Annelida: Polychaeta) from Southern and Southeastern Brazil, including a new species of Glycera
Keywords:
Glyceridae, Glycera, Hemipodia, new species, new occurrence, Brazil
Abstract
This systematic study of the polychaete species of the family Glyceridae is part of a broader program to inventory and determine parameters for conservation and sustainable use of the marine biodiversity off the southeastern and southern coast of Brazil. The material studied was collected from intertidal sandy beaches, the inner continental shelf (<50 m depth) off the northern coast of the state of São Paulo, and the outer continental shelf and part of the continental slope (depths from 60 to 808 m) off the state of Rio de Janeiro south to Rio Grande do Sul (22° S - 34° 40' S). The descriptions of several species were improved, adding new and important taxonomic characters, mainly related to proboscideal papillae. A key for identification of the glycerid species from southeastern and southern Brazil is also provided. Eight species of Glyceridae were identified: Glycera americana Leidy 1855; Glycera brevicirris Grube 1870; Glycera dibranchiata Ehlers 1868; Glycera lapidum Quatrefages 1866; Glycera oxycephala Ehlers 1887; Glycera tesselata Grube 1863; Hemipodia californiensis (Hartman 1938); Hemipodia simplex (Grube 1857); and a previously unknown species of Glycera.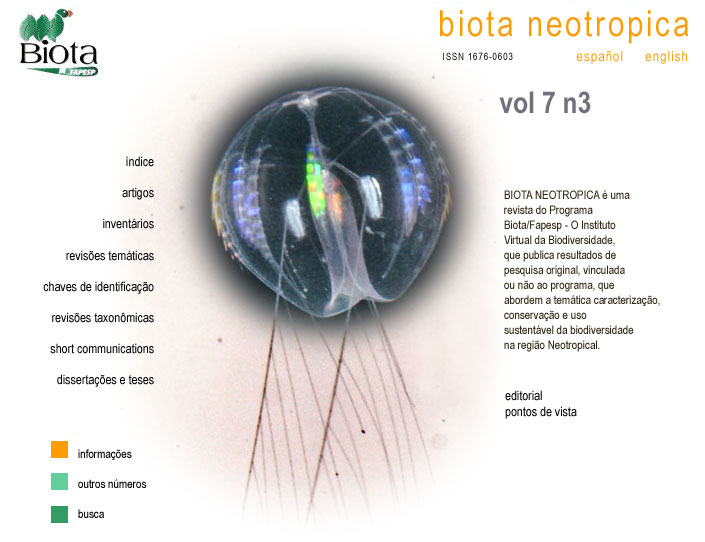 How to Cite
Rizzo, A. E., Steiner, T. M., & Amaral, A. C. Z. (2007). Glyceridae Grube 1850 (Annelida: Polychaeta) from Southern and Southeastern Brazil, including a new species of Glycera. Biota Neotropica, 7(3). Retrieved from https://www.biotaneotropica.org.br/BN/article/view/318