Nephtyidae (Annelida: Polychaeta) from São Paulo State, Brazil, including a new record for the Brazilian coast
Keywords:
Polychaeta, Nephtyidae, Aglaophamus, Nephtys, key to identification, new record
Abstract
In the present study, four species of Nephtyidae, Aglaophamus juvenalis (Kinberg 1866), Nephtys acrochaeta Hartman 1950, Nephtys californiensis Hartman 1938 and Nephtys squamosa Ehlers 1887, were found from the intertidal zone to the shallow sublittoral (<50 m) off São Paulo, Brazil, during the program BIOTA/FAPESP Marine Benthos. Descriptions and notes on each of them are provided. Nephtys californiensis is a new record for the Brazilian coast. Keys to genera and species of Nephtyidae recorded from Brazil are given.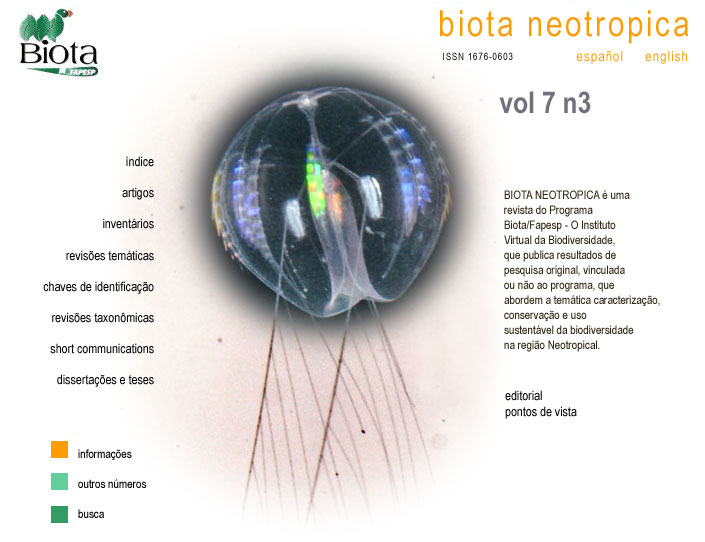 How to Cite
Rizzo, A. E., & Amaral, A. C. Z. (2007). Nephtyidae (Annelida: Polychaeta) from São Paulo State, Brazil, including a new record for the Brazilian coast. Biota Neotropica, 7(3). Retrieved from //www.biotaneotropica.org.br/BN/article/view/355