First occurrence of the family Paralacydoniidae (Annelida: Polychaeta) in the South Atlantic Ocean
Keywords:
Paralacydonia paradoxa, Revizee Program, geographic distribution, Brazil
Abstract
Paralacydoniid polychaetes belonging to the genus Paralacydonia Fauvel 1913 were collected during the REVIZEE Program/South Score/Benthos ("Avaliação do Potencial Sustentável dos Recursos Vivos na Zona Econômica Exclusiva") on the outer shelf and continental slope off the south-southeastern coast of Brazil between 156 and 400 m depth. This new report extends the known geographic distribution of the family, which had previously been recorded in the North Atlantic as far as the Gulf of Mexico. Paralacydonia is here treated as monotypic; P. mortenseni Augener 1924 and P. weberi Horst 1923 are considered synonyms of Paralacydonia paradoxa Fauvel 1913.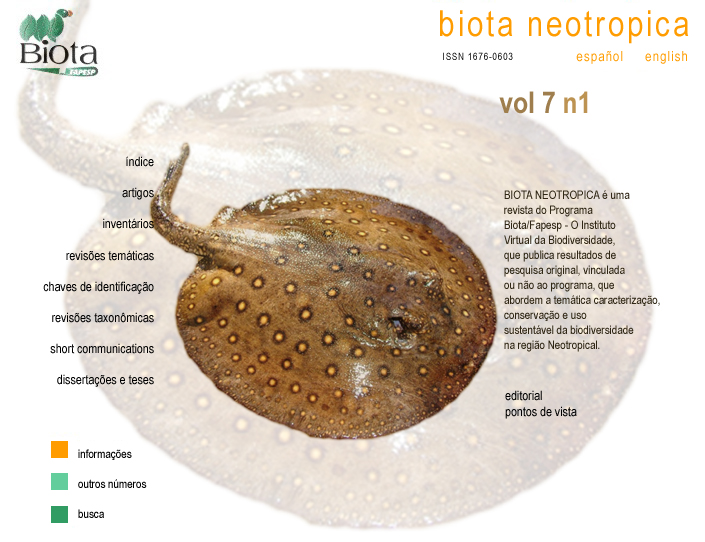 How to Cite
Rizzo, A. E., & Amaral, A. C. Z. (2007). First occurrence of the family Paralacydoniidae (Annelida: Polychaeta) in the South Atlantic Ocean. Biota Neotropica, 7(1). Retrieved from https://www.biotaneotropica.org.br/BN/article/view/250