Community structure of macroinvertebrates associated with leaf litter from riffles and pools from Central Amazon streams
Keywords:
colonization, water flow, aquatic invertebrates
Abstract
Considering that the composition and distribution of freshwater macroinvertebrates is related to several environmental factors, especially water flow and type of substratum I hypothesized that composition, richness and abundance of macroinvertebrates that occur in both environments with distinct hydrological characteristics (riffle and pool) were different between these areas. Specimens were sampled in three streams where five traps were arranged in stretches from pools and riffles totalizing 30 traps. In the laboratory the macroinvertebrates were identified to family level. An analysis of variance in blocks was made in order to verify possible effects of habitat and stream type on the richness and abundance of macroinvertebrates. Shannon's diversity index was applied, followed by a t-test. The Bray-Curtis cluster analysis was performed to verify the similarity between different habitats. A total of 132 specimens were collected, 97 in riffles and 35 in pools. Among sixteen families collected, six colonized only riffles, two colonized only pools and eight colonized both environments. An effect of the habitat (pools or riffles) upon the richness and abundance of macroinvertebrates was detected. On the contrary, no difference was found among streams (igarapés). The Shannon diversity index was higher in riffles than in pools. The riffle stretches formed a single group on the Bray-Curtis cluster analysis. I conclude that composition and abundance were distinct between the community of macroinvertebrates of riffles and pools. The explaining hypothesis for these results is that the community structure of both environments is distinct due to variations associated with water flow, that allows the existence of groups with different ecological and behavioral features.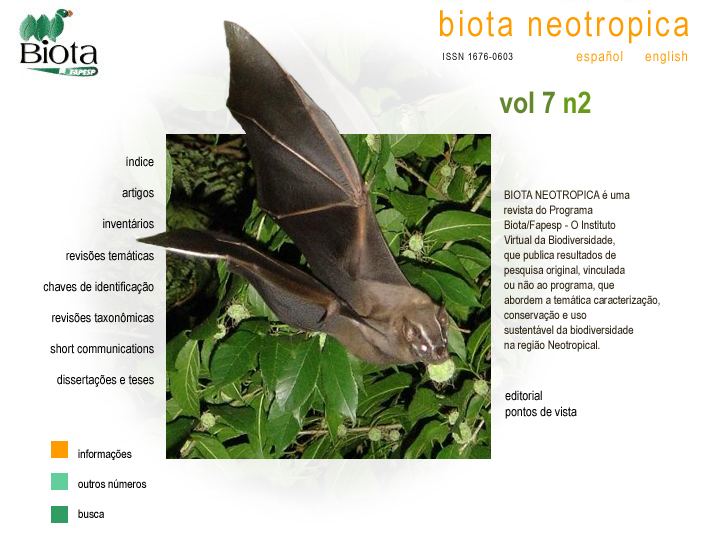 How to Cite
Rezende, C. F. (2007). Community structure of macroinvertebrates associated with leaf litter from riffles and pools from Central Amazon streams. Biota Neotropica, 7(2). Retrieved from //www.biotaneotropica.org.br/BN/article/view/310
Section
Short Communications