Aspectos da alimentação de Bryconamericus microcephalus(Characiformes, Tetragonopterinae) no córrego Andorinha, Ilha Grande – RJ
Keywords:
Atlantic Forest, Tetragonopterinae, feeding habit, Bryconamericus
Abstract
The present study was developed at córrego Andorinha in the oceanic slope of Ilha Grande (23°05', 23°15'S e 44°06 e 44°23'W) and aimed to determine B. microcephalus feeding habits as well as their differences between adult and juvenile specimens. Sampling were carried out between Nov/99 and Oct/00, by waiting nets (5-10 mm mesh) and sieves in a stream strech characterized by 100% of canopy and sand, gravel, rocks and debris substrata. At each sampling ocasion, 20 specimens were collected and their gut content analysed under stereoscopic microscopic following the Numerical Fre-quency method. Diet was based mainly on aquatic insect larvaes (autochthonous) and terrestrial insects (allochthonous). The participation of allochthonous and autochthonous itens varied seasonally (r spearman= 0.296; p=0.325), being allochthonous itens predominant during dry season. Considering the relative participation of allochthonous and autochthonous itens in the diet of juvenile and adult, separatelly, we found predominance of allochthonous itens among juveniles (t test; t=2.51, df=30; p=0.01) and absence of differences among adult specimens (t test; t=0.79, df=84; p=0.43). Mean value of Intestinal Coefficient (IC) was 0.77, without differences among juveniles and adult specimens (t test; t=-0.62, df=85; p=0.45), and suggests an omnivorous diet, that was not corroborated by the registered diet. Such result should be explained by a pontual sample that was proceeded in a low primary production locality (100% canopy cover); nonetheless, as migrators, this specimens must use other food resources (e.g. filamentous algae and/or aquatic macrophytes) in the localities where primary production is enhanced by sun incidence (open areas), explaning their anatomical pre-adaptation (omnivorous CI).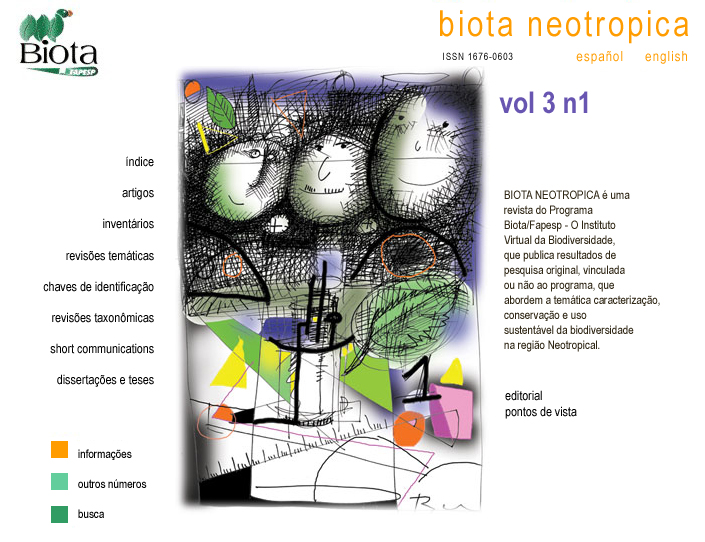 How to Cite
Rezende, C. F., & Mazzoni, R. (2003). Aspectos da alimentação de Bryconamericus microcephalus(Characiformes, Tetragonopterinae) no córrego Andorinha, Ilha Grande – RJ. Biota Neotropica, 3(1). Retrieved from https://www.biotaneotropica.org.br/BN/article/view/1119
Section
Short Communications