Knowing biodiversity: Fishes from the Guareí River basin, a tributary of the Jurumirim reservoir, Paranapanema River, Brazil
Keywords:
Inventory, migratory fish, non-native fish, Paraná River basin, stream, undescribed species
Abstract
Abstract: The Guareí River is a tributary of the Paranapanema River (Brazil), located in the upper portion of the Jurumirim Reservoir. Fish fauna studies in this watershed began in the 2000s, but they were restricted to a few waterbodies. This work conducted a broad survey of the fish fauna in tributary streams and the main channel of the Guareí River. Sampling occurred between February 2017 and November 2018 at 36 sites and using different collection methods. We captured 2,169 specimens belonging to 50 species, 16 families and 6 orders. The species accumulation curve tended to stabilize but indicated that species richness is underestimated. Almost all species are native (46); only three were non-native (Hyphessobrycon eques, Oreochromis niloticus and Poecilia reticulata) and one was undefined (Gymnotus pantanal). Among the native species, two are unknown to science (Bryconamericus aff. iheringii and Hypostomus sp. n.) and three are migratory (Leporinus friderici, Megaleporinus obtusidens and Pimelodus maculatus). In this paper, we provide images of species collected. Results indicate that the Guareí River basin is a hotspot of fish diversity in the Upper Paranapanema River, stressing the need for adequate management and conservation actions.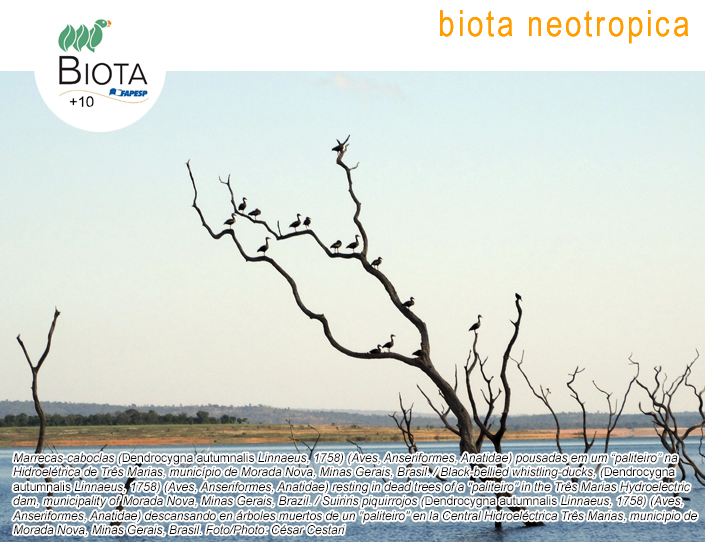 How to Cite
Azevedo-Santos, V. M., Pelicice, F. M., & Henry, R. (2020). Knowing biodiversity: Fishes from the Guareí River basin, a tributary of the Jurumirim reservoir, Paranapanema River, Brazil. Biota Neotropica, 20(3). Retrieved from https://www.biotaneotropica.org.br/BN/article/view/1753