First record of plastic ingestion by an important commercial native fish (Prochilodus lineatus) in the middle Tietê River basin, Southeast Brazil
Keywords:
Curimbatá, Digestive tract content, Plastic contamination, River pollution
Abstract
Abstract This is the first study to report the plastic ingestion by Prochilodus lineatus in Brazilian fluvial ecosystems. We examined 32 individuals collected in two contrasting lotic environments: the highly polluted Tietê River and its much less degraded tributary, Peixe River. Most individuals, 71.88%, contained plastic in their digestive tract, with averages of 3.26 and 9.37 particles per individual in the tributary and main river, respectively. The blue color was predominant among the observed plastic particles and size ranged from 0.18 to 12.35 mm. Plastic ingestion must be accidental, predominantly, since the species has an iliophagous eating habit. As this species is regionally the most important fishery resource, potential adverse effects of this type of contamination may be transferred to human consuming populations. Mitigation measures against pollution are urgent in the Tietê River basin.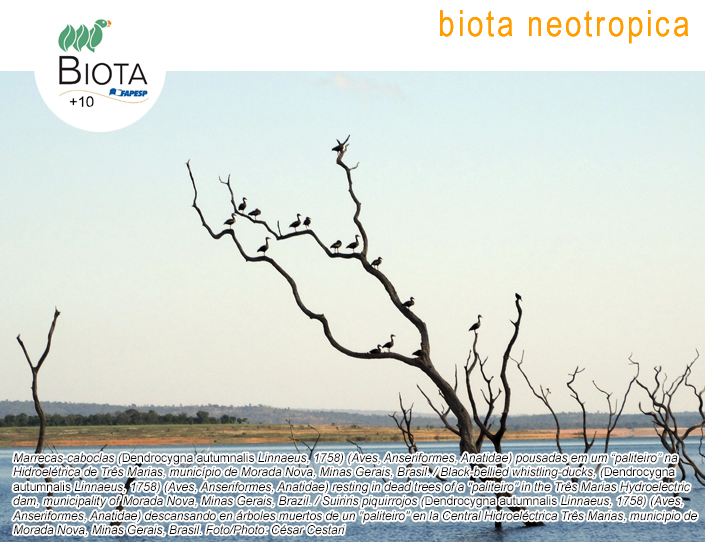 How to Cite
Urbanski, B. Q., Denadai, A. C., Azevedo-Santos, V. M., & Nogueira, M. G. (2020). First record of plastic ingestion by an important commercial native fish (Prochilodus lineatus) in the middle Tietê River basin, Southeast Brazil. Biota Neotropica, 20(3). Retrieved from //www.biotaneotropica.org.br/BN/article/view/1745
Section
Short Communications