Neriidae (Diptera: Schizophora) of the Northeastern Brazil: new records and an identification key
Keywords:
Ceará, faunistic survey, Maranhão, Nerioidea, Piauí
Abstract
Abstract: Here, we provide a list of seven species collected in the Brazilian states of Ceará, Maranhão and Piauí, housed in the Coleção Zoológica do Maranhão (CZMA), Cerantichir peruana (Hennig, 1937), Glyphidops durus (Cresson, 1926), Glyphidops filosus (Fabricius, 1805), Glyphidops flavifrons (Bigot, 1886), Glyphidops vittatus (Cresson, 1912), Nerius pilifer Fabricius, 1805 and Nerius plurivittatus Bigot, 1886. Representatives of Neriidae are recorded and mapped for the first time in the states of Ceará, Maranhão and Piauí, while the species C. peruana, G. durus, G. flavifrons and G. vittatus represent new records for the Northeast Region of Brazil. A key for the identification and diagnoses of Northeastern Brazilian neriids are provided.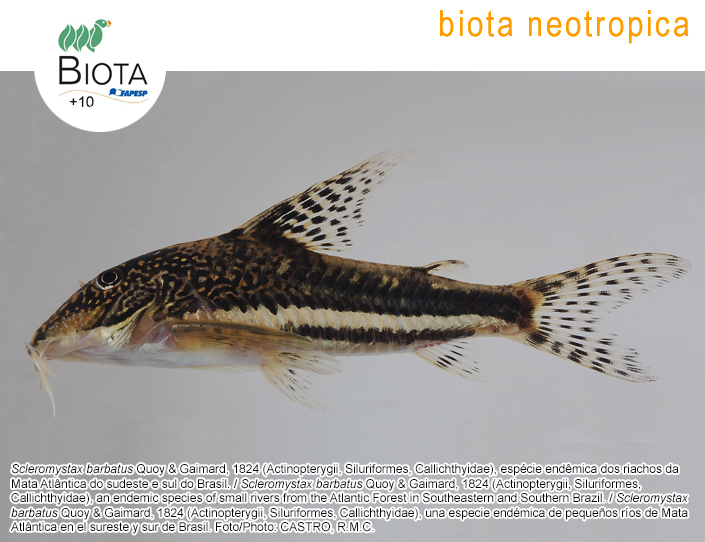 How to Cite
Sepúlveda, T. A., Gomes, L. R. P., & Limeira-de-Oliveira, F. (2020). Neriidae (Diptera: Schizophora) of the Northeastern Brazil: new records and an identification key. Biota Neotropica, 20(1). Retrieved from //www.biotaneotropica.org.br/BN/article/view/1701