Anuran amphibians in state of Paraná, southern Brazil
Keywords:
Atlantic Forest, checklist, Cerrado, inventory, species richness
Abstract
Abstract: The state of Paraná, located in southern Brazil, was originally covered almost entirely by the Atlantic Forest biome, with some areas of Cerrado savanna. In the present day, little of this natural vegetation remains, mostly remnants of Atlantic Forest located in the coastal zone. While some data are available on the anurans of the state of Paraná, no complete list has yet been published, which may hamper the understanding of its potential anuran diversity and limit the development of adequate conservation measures. To rectify this situation, we elaborated a list of the anuran species that occur in state of Paraná, based on records obtained from published sources. We recorded a total of 137 anuran species, distributed in 13 families. Nineteen of these species are endemic to the state of Paraná and five are included in the red lists of the state of Paraná, Brazil and/or the IUCN. Two anuran species were categorized as Near Threatened by the IUCN and 27 species were listed as Data Deficient in one or more lists. According to IUCN 49.6% of the anuran species recorded had their population trends stable, 19% in declined, only 1.4% is increased and 20.4% had your population trends unknown. We also recorded the occurrence in Paraná of the exotic invader anuran Lithobates catesbeianus. We consider our list of species to be a relatively reliable estimate of the anuran diversity of the Brazilian state of Paraná, although new species records are expected, mainly because there are many regions that have not yet been sampled.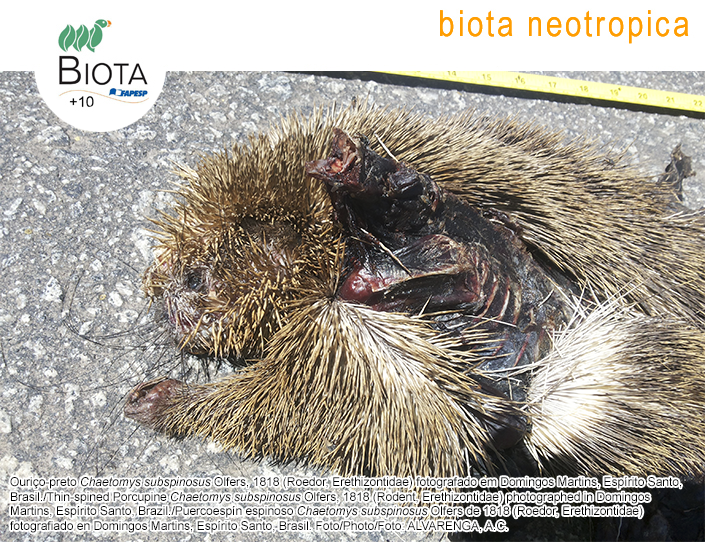 How to Cite
Santos-Pereira, M., Pombal Jr., J. P., & Rocha, C. F. D. (2018). Anuran amphibians in state of Paraná, southern Brazil. Biota Neotropica, 18(3). Retrieved from https://www.biotaneotropica.org.br/BN/article/view/1523