A checklist of Rutelinae MacLeay, 1819 (Coleoptera, Melolonthidae) of Bahia, Brazil
Keywords:
new records, Northeastern Brazil, species list
Abstract
Abstract A list of species of Rutelinae from Bahia state, Northeastern Brazil, is presented. The list is based on specimens deposited in Brazilian collections. The list includes 4 tribes, 23 genera, 101 species and 17 subspecies. The genera Byrsopolis Burmeister, 1844, Pseudodorysthetus Soula, 2008 and Trizogeniates Ohaus, 1917 are recorded for the first time in Bahia and Northeastern Brazil. Thirty species are newly recorded in Bahia: Areoda espiritosantensis Ohaus, 1905, B. laticollis Burmeister, 1855, Bolax flavolineata (Mannerheim, 1829), Chlorota abdominalis Ohaus, 1926, C. espiritosantensis Ohaus, 1912, Dorysthetus espiritosantensis Ohaus, 1905, D. fulgidus (Waterhouse, 1881), Leucothyreus acanthurus Ohaus, 1917, L. albopilosus Ohaus, 1917, L. campestris Burmeister, 1855, L. cayapo Ohaus, 1931, L. duplopunctatus Frey, 1976, L. eligius Ohaus, 1918, L. fluminensis Ohaus, 1918, L. iridipennis Ohaus, 1917, L. lucipetens Ohaus, 1931, L. occipitalis Ohaus, 1931, L. pallefactus Ohaus, 1924, L. paulista Ohaus, 1917, L. punctulatus Blanchard, 1851, L. suturalis Laporte, 1840, L. trochantericus Ohaus, 1917, L. verticalis Ohaus, 1924, Macraspis cincta (Drury, 1872), Paranomala tricostulata (Ohaus, 1897), P. violacea (Burmeister, 1844), Pseudodorysthetus calcaratus (Spinola, 1835), and Trizogeniates planipennis Ohaus, 1917. Pelidnota unicolor unicolor (Drury, 1778) is recorded for the first time in Bahia. Fourteen species are identified and will be described in subsequent papers: 10 of Leucothyreus MacLeay, 1819, 2 of Lobogeniates Ohaus, 1917 and 1 species of Byrsopolis Burmeister, 1844 and Pelidnota MacLeay, 1819. Rutelini is the richest tribe with 16 genera and 49 species. The information presented in the list generates an important set of knowledge regarding the diversity of Rutelinae of Bahia and Brazil and provides the basis for conducting future research within the group.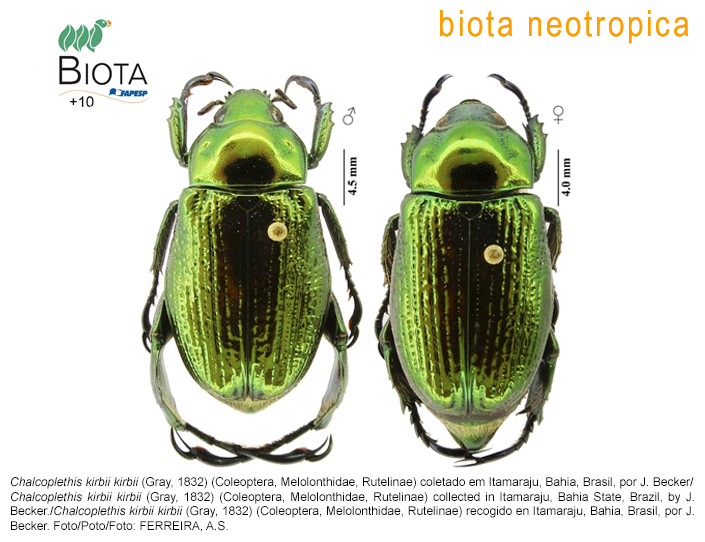 How to Cite
Ferreira, A. da S., Almeida, L. M., Bravo, F., & Grossi, P. C. (2018). A checklist of Rutelinae MacLeay, 1819 (Coleoptera, Melolonthidae) of Bahia, Brazil. Biota Neotropica, 18(2). Retrieved from https://www.biotaneotropica.org.br/BN/article/view/1503