Synopsis of knowledge on Cnidaria Medusozoa from Brazil
Keywords:
Hydrozoa, Scyphozoa, Cubozoa, Staurozoa, Fauna, South Atlantic, Polyp, Medusa, Brazil
Abstract
A synopsis of knowledge concerning Medusozoa (Cnidaria) along the Brazilian coast is presented. We generated a data list with all records of medusozoans from Brazil, including information on the distribution of the species and the phase (polyp or medusa) recorded. Currently the number of species of Medusozoa recorded from Brazil is 377 (205 genera and 82 families), with 348 species of hydrozoans, 22 scyphozoans, 3 cubozoans and 1 staurozoan. Geographical and historical analyses were carried out based on the data list. The geographical analysis reveals that knowledge on biodiversity of the group is most inadequate for the North and part of the Northeastern coast. Although the Southeastern coast is the best known region in number of species and representative suprageneric taxa recorded, in general there is a lack of knowledge of the fauna in other than shallow waters, a pattern also observed for all other regions. Historically, the rapid increase of records on hydrozoans began in the 1940s and accelerated during the last decade. Investigations on coronates are all concentrated in the last decade but, in general, other groups show slow and gradual accumulation of species records. Guidelines and policies for the study of medusozoan biodiversity are suggested.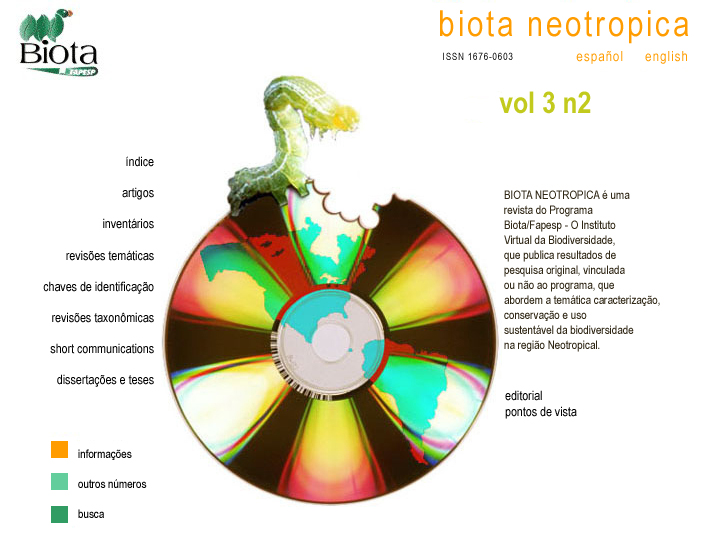 How to Cite
Marques, A. C., Morandini, A. C., & Migotto, A. E. (2003). Synopsis of knowledge on Cnidaria Medusozoa from Brazil. Biota Neotropica, 3(2). Retrieved from //www.biotaneotropica.org.br/BN/article/view/1105