Feeding ecology of Dash-dot Tetra Hemigrammus belottii(Steindachner 1882) (Characiformes: Characidae) in the streams of the Urucu River basin, central Amazonia, Brazil
Keywords:
allochthonous item, Amazon basin, trophic ecology
Abstract
The present study describes aspects of feeding ecology of Dash-dot TetraHemigrammus belottii (Characiformes: Characidae) collected in the Urucu River basin in Coari, Amazonas (Brazil), aims to respond the following question: What is the influence of hydrological periods (dry and wet) and spatial distribution in the diet of H. belottii? The specimens were collected between 2006 and 2009 in seven streams in the Urucu basin using standard capture methods. Their stomachs were removed for diet composition analyses. The alimentary items were weighed and identified for subsequent analyzes related to feeding intensity by repletion index (RI%) and importance by alimentary index (AIi%). A total of 227 specimens were analyzed, with a mean standard length of 16.5±5.6 mm. The RI% values indicated that H. belottii fed more intensively during the dry season. The principal items in the diet were Formicidae (IAi% = 69.6), fragments of allochthonous exoskeleton (IAi% = 17.7), and Coleoptera (IAi% = 6.0). The composition of the diet did not vary significantly between seasons or among habitats, which may be related to the abundance of the items exploited by the species throughout the year. Hemigrammus belottii showed a generalist insectivore feeding habits which was mainly composed by allochthonous item.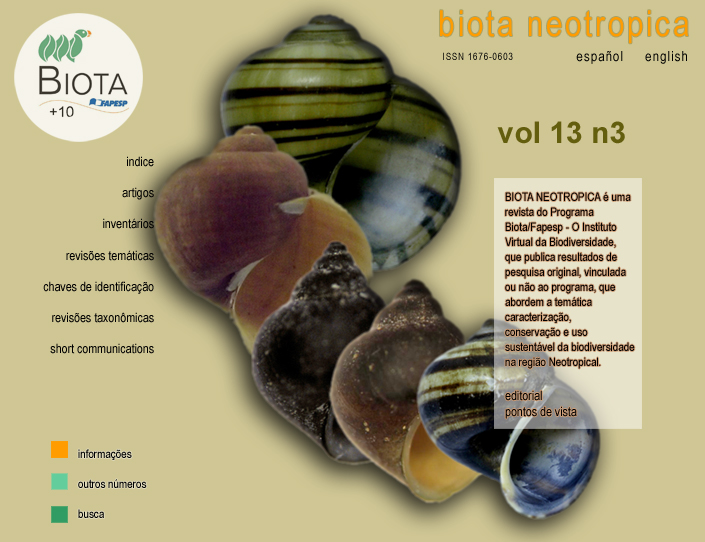 How to Cite
Gonçalves, A. F. G., Prudente, B. da S., Carvalho Filho, F. da S., & Montag, L. F. de A. (2013). Feeding ecology of Dash-dot Tetra Hemigrammus belottii(Steindachner 1882) (Characiformes: Characidae) in the streams of the Urucu River basin, central Amazonia, Brazil. Biota Neotropica, 13(3). Retrieved from https://www.biotaneotropica.org.br/BN/article/view/1267