Scent-robbing and fighting among male orchid bees, Eulaema (Apeulaema) nigrita Lepeletier, 1841 (Hymenoptera: Apidae: Euglossini)
Keywords:
Apoidea, Eulaema, male fight, orchid bees, Neotropical Region, Brazil
Abstract
Male Neotropical orchid bees (Euglossini) collect volatile chemicals from floral and non-floral sources and store then in specialized hind tibial structures. The ultimate causes of euglossine fragrance collection remain a mystery. Recent evidence suggests that odoriferous substances play a role in euglossine courtship and serve as indicator of male genetic quality. Males of Eulaema nigrita were observed robbing scents from the detached hind legs of a conspecific male E. nigrita in Belém, Brazil. The hind leg seemed to have been detached during fights between males, since one male was missing a hind leg where the observation was made. This behavior appears to be common among males of E. nigrita since more than one case was observed on the same day. The observation reported here shows that males of E. nigrita with tibiae filled with fragrances are attacked by conspecific males that attempt to steal it.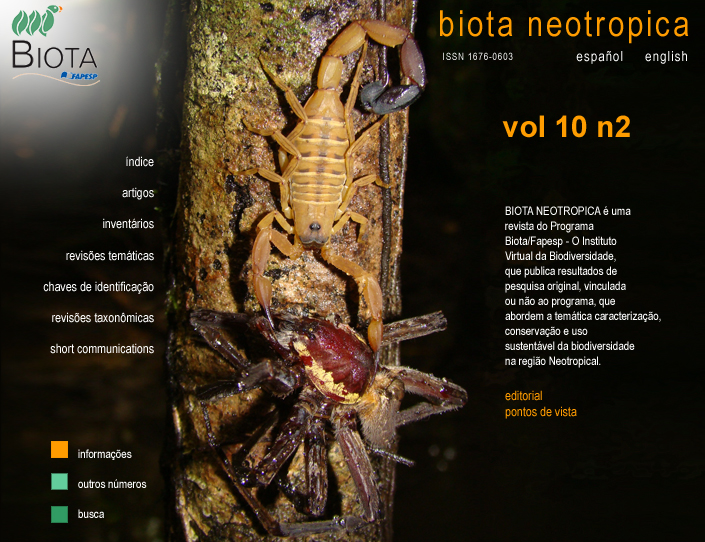 How to Cite
Carvalho Filho, F. da S. (2010). Scent-robbing and fighting among male orchid bees, Eulaema (Apeulaema) nigrita Lepeletier, 1841 (Hymenoptera: Apidae: Euglossini). Biota Neotropica, 10(2). Retrieved from https://www.biotaneotropica.org.br/BN/article/view/708
Section
Short Communications