The Ichthyofauna of Savannas from Marajó Island, State of Pará, Brazil
Keywords:
fishes, biodiversity, savanna, Amazon basin
Abstract
The flooded areas or savannas of the Marajó island is a fraction of the "Cerrado" biome in the Amazonian, and it is considered of a great importance to management plans, conservation and environmental preservation. In order to increase the knowledge of ichthyofauna from this region, the present study united information collected in other past campaigns, compiled from literature and selected from ichthyological collections on the fauna of the eco-region of Marajó's savanna. The field sampling occurred between the years of 2003 and 2005, and was applied the hand net, trawl net, gillnets, blockage and capture by free diving technique, which during this period were sampled the municipalities Ponta de Pedras, Chaves and Muaná. Besides these, four municipalities had also been included in past studies. The efficiency of this biological inventory was evaluated by species accumulation method (rarefaction) and the richness estimator Bootstrap. In these three places were collected 146 species, which 89 species (60%) and eight families of Actinopterygii were included as new records for the island of Marajó. With the increase of collections in the municipalities of Ponta de Pedras, Chaves and Muaná, the total species of the island is 254 species. Of these, 44 species (17%) are targets of commercial fishing for food and 46 species (18%) are caught to ornamental business. Thus, biological inventories realized at places with a great environmental importance as the savannas or flooded areas of the Marajó Island are essential, because without this documentation, any measurement of biodiversity, delimitation of endemism areas and geographic distribution of species for implementation of conservation plans would be damaged. Therefore, it is necessary not only create conditions to protect wildlife, but to make it better known through mechanisms to financing inventory projects and taxonomy and systematic studies.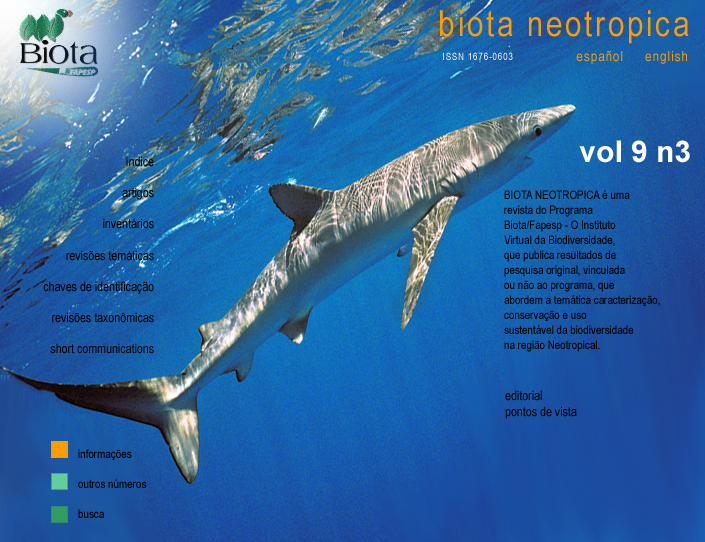 How to Cite
Montag, L. F. de A., Albuquerque, A. A. de, Freitas, T. M. da S., & Barthem, R. B. (2009). The Ichthyofauna of Savannas from Marajó Island, State of Pará, Brazil. Biota Neotropica, 9(3). Retrieved from //www.biotaneotropica.org.br/BN/article/view/539