Abundância e fenologia de Cryptocellus simonis Hansen & Sørensen, 1904 (Ricinulei, Arachnida) na serapilheira do bosque Rodrigues Alves, Belém, Pará, Brasil, com a comparação de três técnicas de coleta
Keywords:
Cryptocellus simonis, Ricinulei, abundância, fenologia, Amazônia Oriental
Abstract
The abundance and phenology of a population of Cryptocellus simonis from Rodrigues Alves Park, Belém, Pará State, Brazil was studied. A total of 159 concentrated litter samples (each one with 1 m²) were obtained, 53 manually sorted, 53 processed in a Berlese-Tullgren apparatus and 53 processed in a Winkler apparatus. These three techniques produced 111 individuals (11 males, 15 females, 61 nymphs and 24 larvae). The median and highest densities were 0.7 and 18 ind./m², respectively. During the rainy season (March to May) the juveniles represented 78% of all collected individuals (eight larvae, 16 protonymphs, seven deutonymphs, eight tritonymphs and 11 adults), while during the dry season (September to November) the juveniles represented 75% of the total catch (16 larvae, nine protonymphs, 11 deutonymphs, 10 tritonymphs and 15 adults). No significant differences in the abundance of C. simonis were detected comparing the rainy and dry seasons. The development stages showed a significant positive correlation between the carapace and femur III lengths. Winkler bags represented 63% of all catches and were the best collecting technique for ricinuleid sampling.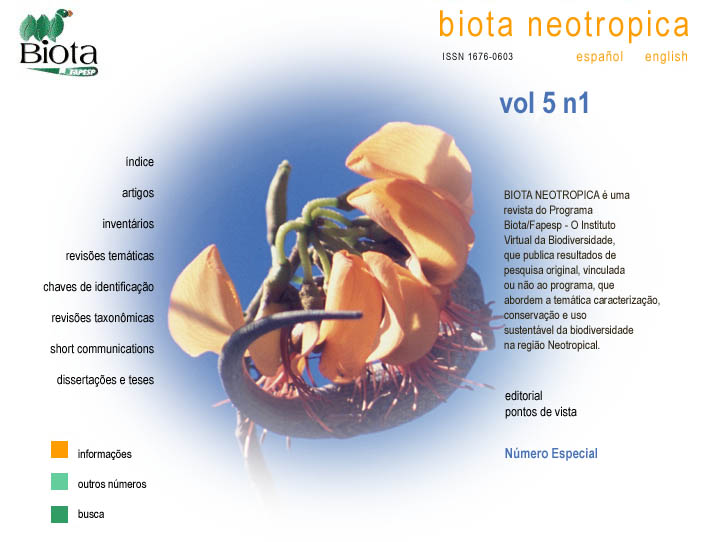 How to Cite
Barreiros, J. A. P., Pinto-da-Rocha, R., & Bonaldo, A. B. (2005). Abundância e fenologia de Cryptocellus simonis Hansen & Sørensen, 1904 (Ricinulei, Arachnida) na serapilheira do bosque Rodrigues Alves, Belém, Pará, Brasil, com a comparação de três técnicas de coleta. Biota Neotropica, 5(1). Retrieved from //www.biotaneotropica.org.br/BN/article/view/125