Diversidade de opiliões do parque nacional da serra dos órgãos, Rio de Janeiro, Brasil (Arachnida: Opiliones)
Keywords:
Opiliones, species, richness estimator, Parque Nacional da Serra dos Órgãos
Abstract
Two sampling methods (free search and plot search) were carried out to estimate the diversity of harvestmen in the Parque Nacional da Serra dos Órgãos, RJ. A total of 1,194 adult harvestmen belonging to three families, 27 genera, and 52 species were obtained in 83 samples. The estimates of richness were performed with the program EstimateS 5.0 and the following estimators were analysed: Chao1, Chao2, ACE, ICE, Bootstrap, Jackknife1 e Jackknife2. In both sampling methods the curve of species accumulation approached an asymptot. However, the estimate of richness varied greatly among methods: Bootstrap produced the lowest estimate with 57 species, and Jackknife2 the highest estimate with 70 species. A large number of samples and adult specimens were obtained with the method of plot search but the free search obtained the highest richness. The richness of harvestmen (64 spp.) of the Parque Nacional da Serra dos Órgãos is the highest in Brazil.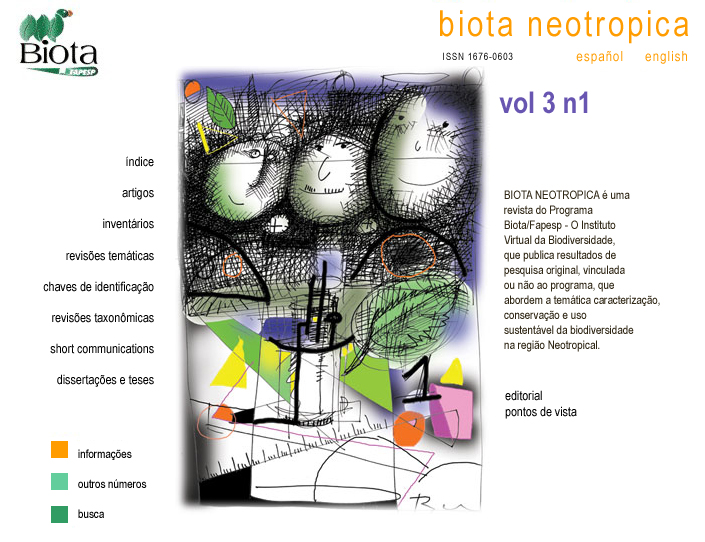 How to Cite
Bragagnolo, C., & Pinto-da-Rocha, R. (2003). Diversidade de opiliões do parque nacional da serra dos órgãos, Rio de Janeiro, Brasil (Arachnida: Opiliones). Biota Neotropica, 3(1). Retrieved from https://www.biotaneotropica.org.br/BN/article/view/1567