Boraginales Juss. ex Bercht. & J.Presl in the Ecoregion Raso da Catarina, Bahia, Brazil
Keywords:
floristic, taxonomy, semiarid, Caatinga, diversity
Abstract
Raso da Catarina is one of the eight Ecoregions recognized for the Caatinga biome. This work includes the taxonomic study of Boraginales Juss. ex Bercht. & J.Presl in the Ecoregion Raso da Catarina, Bahia state, Brazil. The samples analyzed were collected from March 2009 to July 2013. The analyses were supplemented with dried collections kept in the herbaria: ALCB, IPA, HRB, HST, HTSA, HUEFS, HVASF, PEUFR and UFP. Two families, five genera and 16 species were recorded. The Cordiaceae family was represented by genera Cordia L. [C. glabrata (Mart.) A.DC., C. rufescens A.DC., C. superba Cham. and C. trichotoma (Vell.) Arráb. exSteud.] and Varronia P.Browne [V. curassavica Jacq., V. globosa Jacq., V. leucocephala (Moric.) J.S.Mill. and V. leucomalloides (Taroda) J.S.Mill.] and Heliotropiaceae with the genera Euploca Nutt. [E. paradoxa(Mart.) J.I.M.Melo & Semir and E. procumbens (Mill.) Diane & Hilger], Heliotropium L. [H. angiospermum Murray, H. elongatum (Lehm.) I.M.Johnst. and H. indicum L.] and Myriopus Small [M. candidulus (Miers) Feuillet, M. rubicundus (Salzm. ex DC.) Luebert and M. salzmannii (DC.) Diane & Hilger]. The species most commonly found were Cordia glabrata, Varronia globosa, V. leucocephala, Euploca procumbens, Heliotropium angiospermum and H. elongatum, associated with sandy soils. Cordia superba and C. trichotoma were found in moist environments, higher altitudes, clay or sandy-clayey soils. Euploca paradoxa was collected on the banks of the São Francisco River, and Varronia leucomalloides occurs in the hiperxerophytic Caatinga associated with rocky or sandy soils and in areas of contact between Caatinga and Cerrado, these species were more restricted in the area. Comments are made on the morphology and taxonomy, illustrations, and data on geographical distribution and phenology, besides a key for the taxa studied.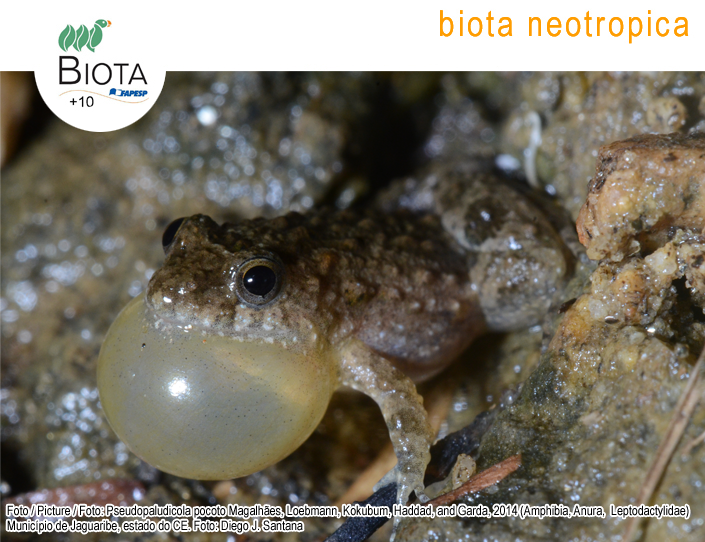 How to Cite
Vieira, D. D., Melo, J. I. M. de, & Conceição, A. de S. (2015). Boraginales Juss. ex Bercht. & J.Presl in the Ecoregion Raso da Catarina, Bahia, Brazil. Biota Neotropica, 15(3). Retrieved from //www.biotaneotropica.org.br/BN/article/view/1166