Insect galls from restingas of Southeastern Brazil, with new records
Keywords:
diversity, insect galls, host plant
Abstract
The restingas of the Southeastern region of Brazil present 476 morphotypes of insect galls found on 60 families, 131 genera, and 229 plant species. Myrtaceae, Asteraceae, and Fabaceae are the plant families with the greatest richness of galls and number of galled species. The superhost genera are Eugenia (Myrtaceae), Mikania (Asteraceae), and Myrcia (Myrtaceae). The superhost species are Guapira opposita (Nyctaginaceae), Mikania cf. biformis (Asteraceae), and six species of (Myrtaceae); Eugenia adstringens, Eugenia multiflora, Eugenia copacabanensis, Myrcia fallax, Myrciaria floribunda and Psidium cattleyanum. The galls occur on all vegetative and reprodutive plant organs, being more common on leaves. The gallers belong to Diptera, Lepidoptera, Hemiptera, Coleoptera, Thysanoptera, and Hymenoptera. Cecidomyiidae (Diptera) are the most frequent galling insects and the single group that produces galls on all plant organs, showing a strong preference for leaves. Lepidoptera are in the second place and the gallers attack leaves, stems, buds and fruits, with a strong preference for stems. Little is known about the taxonomical knowlegde of galling species (21% are identified at species level and 14% at genus level). The other records are in suprageneric categories. Cecidomyiidae are represented by 43 genera (about 49% of the Brazilian fauna) with 156 species (84 determined and 72 not determined), showing a good representativeness in the Southeastern region of Brazil. The most diversified genera are Clinodiplosis (31 spp.), Neolasioptera (17 spp.), Asphondylia (15 spp.), Lopesia (15 spp.), and Dasineura (13 spp.). Fifteen new gall occurrences are recorded from Cabo Frio and Paraty (RJ), and a new record of host plant is presented.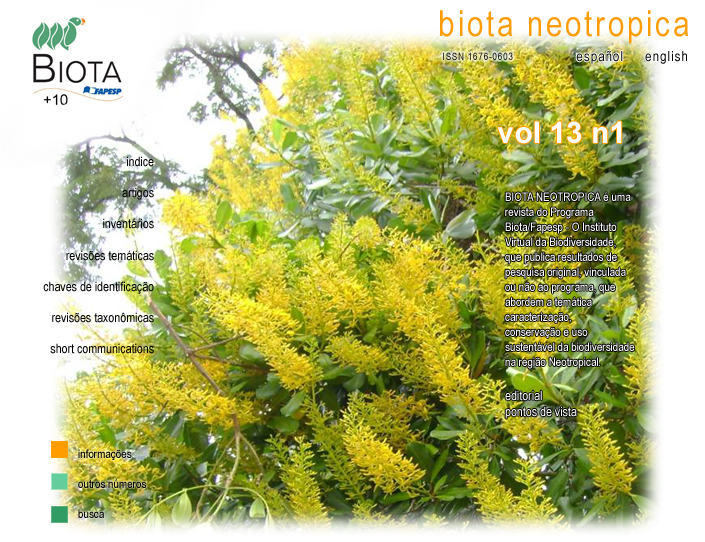 How to Cite
Maia, V. C. (2013). Insect galls from restingas of Southeastern Brazil, with new records. Biota Neotropica, 13(1). Retrieved from https://www.biotaneotropica.org.br/BN/article/view/1068