Diversity of insect galls from Mato Grosso State, Brazil: North Pantanal
Keywords:
Biodiversity, Brazilian wetlands, conservation, gall makers, Neotropical region, insect-plant- interaction
Abstract
Abstract: The Pantanal Biome occupies 20% of the Brazilian territory extending its distribution over two Brazilian States, Mato Grosso and Mato Grosso do Sul. This Biome is one of Brazil's poorly known regions concerning insect gall and their interactions with host plants. In this study, we characterized for the first time the gall morphology, identified host plants and the gall makers from an area of Brazilian wetlands from Mato Grosso State, known as Pantanal Matogrossense. We sampled Pantanal Biome areas in Poconé municipality, along the Transpantaneira Road, Mato Grosso State, Brazil, in two expeditions, July 2012 and January 2013, with a total effort of 2 hours. We characterized 91 morphotypes of insect galls in 54 host plant species; 28 gall makers in 24 host plant species; the richest host plant families are Fabaceae, Myrtaceae, and Sapindaceae. Psidium guineense Sw. is the super host species. This area in Pantanal Matogrossense is the second in the richness of gall morphotypes (N=91) and average morphotypes/plant species (1.7), comparing phytophysiognomies. Additionally, 15 plant species are new record as host in galler-host plant interaction in the world. This number represents 30% of the total of host plant species sampled in Poconé. This inventory is new knowledge to the Pantanal Matogrossense and representing a unique testimony of insect-plant interactions consumed by the unprecedented fire that occurred in Pantanal Biome in the dry season of 2020.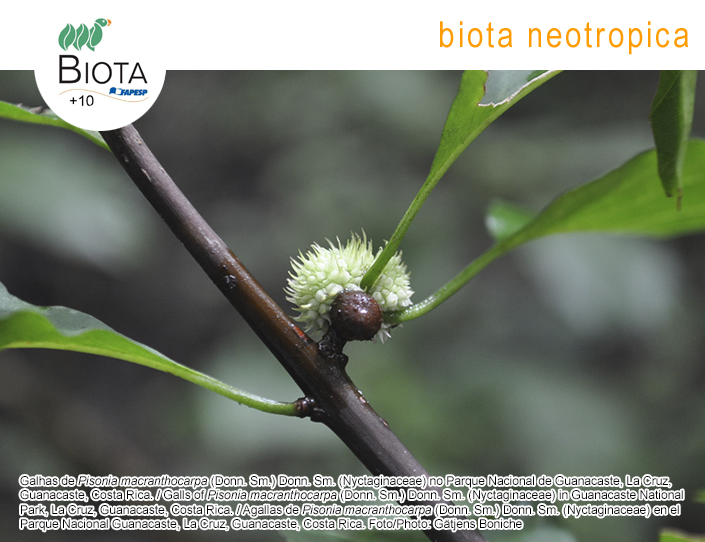 How to Cite
Urso-Guimarães, M. V., Koch, I., & Castello, A. C. D. (2021). Diversity of insect galls from Mato Grosso State, Brazil: North Pantanal. Biota Neotropica, 21(3). Retrieved from https://www.biotaneotropica.org.br/BN/article/view/1842