Scarabaeinae (Coleoptera: Scarabaeidae) of a rupestrian field at Cafuringa, Distrito Federal, Brazil: commented list of species
Keywords:
altitude, cambisoils, Canthidium marseuli, Canthon lamproderes
Abstract
Our aim was to characterize the Scarabaeinae fauna from a rupestrian field formation at APA de Cafuringa, DF, Brazil. We made seven samples between 2007 and 2009 using baited pitfall traps. We collected 602 individuals belonging to 27 species and 13 genera, of which 17 were identified at species level. The majority of species caught has wide geographical distribution in Brazil and South America and do not seem to be specialized in 'campo rupestre' formation. Two species, Canthidium marseuli and Canthon lamproderes have restricted geographical distribution, being present in the central Brazilian highlands. C. marseuli and C. lamproderes are probably restricted to rupestrian fields since they have been registered only for this formation in Brazil, which indicates that these species need attention in relation to the conservation of theirs populations and habitats.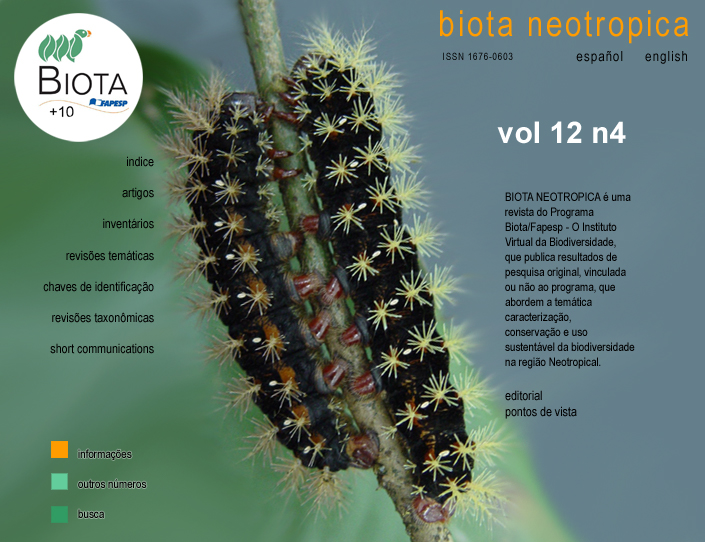 How to Cite
Nunes, R. V., Frizzas, M. R., & Vaz-de-Mello, F. Z. (2012). Scarabaeinae (Coleoptera: Scarabaeidae) of a rupestrian field at Cafuringa, Distrito Federal, Brazil: commented list of species. Biota Neotropica, 12(4). Retrieved from //www.biotaneotropica.org.br/BN/article/view/1032