Diversity of Cerambycidae (Insecta: Coleoptera) in the Cerrado of Central Brazil using a new type of bait
Keywords:
Fermented fruit, Climate variables, Baited trap, Longhorn beetles, New records
Abstract
Abstract: The Cerambycidae family (Insecta: Coleoptera) has approximately 38 thousand species. In Brazil, more than 4,300 species and 1,050 genera are registered, and despite the ecological and agricultural importance of this family, no study has yet been done in the Cerrado of the Distrito Federal (Brazil). The objective of this study was to evaluate the richness and abundance of Cerambycidae in the Cerrado area using two types of fruits (banana and pineapple), fermented with sugarcane juice, as bait and to verify whether the richness is influenced by climate variables. The work was carried out in an area of the cerrado sensu stricto at Água Limpa Farm in the Distrito Federal. Beetles were collected weekly using 40 bait traps with two types of fruits that remained in the field for 12 uninterrupted months (November 2013 to October 2014). The traps were installed 1.50 m above the ground level, distributed in four 80 m transects, and spaced 20 m apart. A total of 1,599 individuals, belonging to 13 genera and different 19 species, were collected. The main species were as follows: Oxymerus basalis (Dalman, 1823) representing 78.3%, Retrachydes thoracicus thoracicus (Olivier, 1790) representing 9.9%, and Chydarteres bicolor (Fabricius, 1787) representing 4.5% of the total specimens collected. There was a significant difference in richness and abundance of Cerambycidae among the baits evaluated, with the pineapple bait presenting the highest values. The greatest number of individuals and species occurred soon after the first rains, especially in November. Temporal variation was confirmed through Rayleigh's uniformity test, following the seasonality of the Cerrado, with the greatest number of individuals and species found in the rainy season. Temperature and humidity influenced the richness of cerambycid beetles. This is the first work carried out with pineapple fermented with sugarcane juice as bait to capture Cerambycidae, and this type of bait proved to be efficient for the collection of insects, comparable in efficiency to the synthetic baits that are normally used. All species collected were new distribution records for the Distrito Federal (Brazil).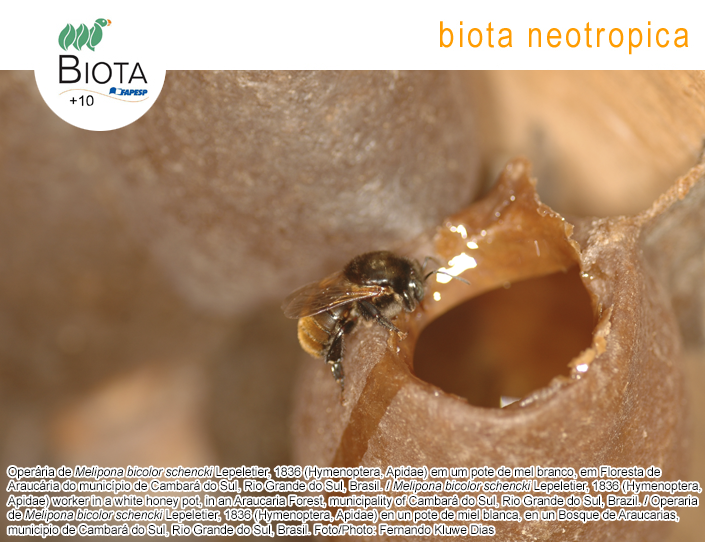 How to Cite
Evangelista, J., Rocha, M. V. C., Monné, M. L., Monné, M. A., & Frizzas, M. R. (2021). Diversity of Cerambycidae (Insecta: Coleoptera) in the Cerrado of Central Brazil using a new type of bait. Biota Neotropica, 21(1). Retrieved from https://www.biotaneotropica.org.br/BN/article/view/1791