Dung beetles (Coleoptera: Scarabaeidae: Scarabaeinae) from native grassland in Pampa biome, Rio Grande do Sul, Brazil
Keywords:
Scarabaeoidea, dung beetle, species survey, 'Campos Sulinos', southern Brazil
Abstract
This work presents a survey of Scarabaeinae species from a natural grassland area in Bagé, state of Rio Grande do Sul, Brazil. Samplings were carried out with flight intercept traps and pitfall traps baited with human feces, rotten banana and rotten meat, from December 2005 to November 2006. A total of 4,573 individuals, belonging to 14 genera and 30 species were collected. Onthophagus aff. hirculus Mannerheim, 1829, Canthon podagricus Harold, 1868, Ontherus sulcator (Fabricius, 1775) and Canthidium moestum Harold, 1867 were the most abundant species. Most of the captured assemblage is composed by species coprophagous and generalists preferably necrophagous. Few species were strictly necrophagous and none was classified as saprophagous. The rollers and tunnelers were represented by similar numbers of species.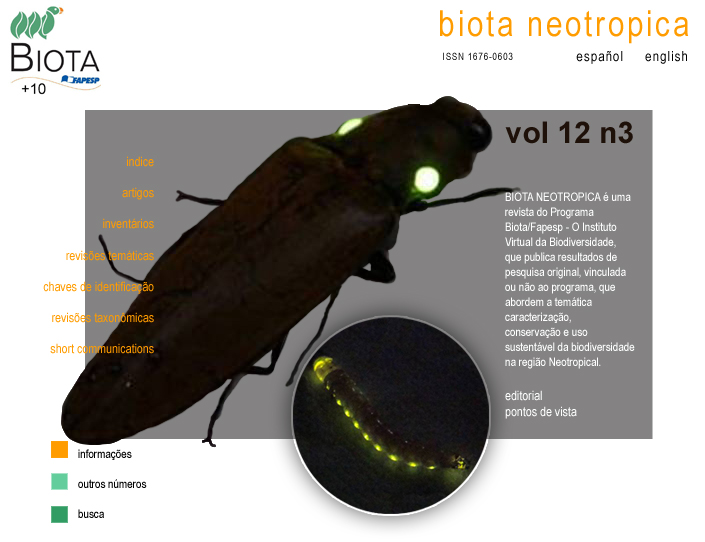 How to Cite
Silva, P. G. da, Audino, L. D., Nogueira, J. M., Moraes, L. P. de, & Vaz-de-Mello, F. Z. (2012). Dung beetles (Coleoptera: Scarabaeidae: Scarabaeinae) from native grassland in Pampa biome, Rio Grande do Sul, Brazil. Biota Neotropica, 12(3). Retrieved from https://www.biotaneotropica.org.br/BN/article/view/1004