Folk taxonomy of fishes of artisanal fishermen of Ilhabela (São Paulo/Brazil)
Keywords:
ichthyofauna, biodiversity, biological classification, human ecology, ethnoecology, fisheries resources
Abstract
This article investigates the folk taxonomy of four artisanal fisheries communities in Ilhabela/SP. The local folk taxonomy shows how these fishermen identify, name and classify fish resources in the environment exploited by them. Forty-two fishermen from four different local communities of Ilhabela were interviewed through a structured questionnaire and photographs of fish species with occurrence for the southeast region of Brazil. Respondents identified the 24 species listed as 50 generic names and 27 binominal specific names, mainly related to aspects of fish species morphology such as color, shape and size. These fish were classified into eight groups according to local criteria related to the morphology, ecology and fishing forms associated with the capture of species. The morphological aspect was identified as the most used feature by respondents to name and classify local fish, followed by ecological aspects such as behavior, diet and habitat. The comparison of local criteria used for the groups was similar to the scientific taxonomy criteria, showing a detailed local ecological knowledge by this group of fishers.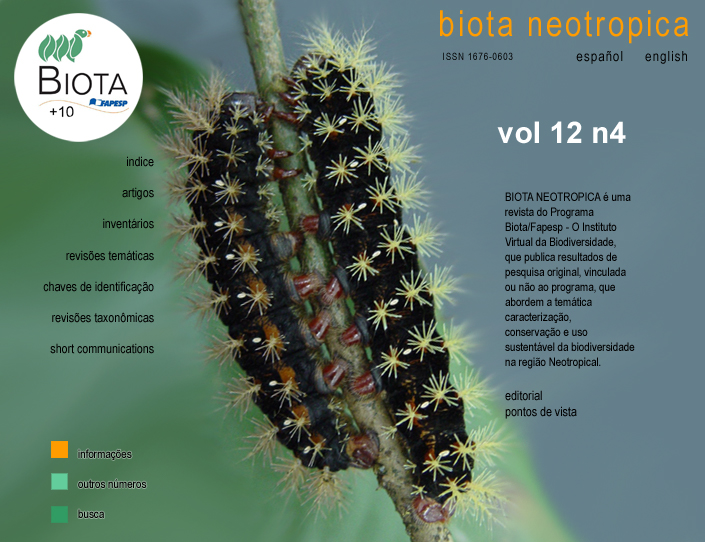 How to Cite
Ramires, M., Clauzet, M., & Begossi, A. (2012). Folk taxonomy of fishes of artisanal fishermen of Ilhabela (São Paulo/Brazil). Biota Neotropica, 12(4). Retrieved from https://www.biotaneotropica.org.br/BN/article/view/1021