Head triangulation as anti-predatory mechanism in snakes
Keywords:
artificial models, defensive behavior, mimicry, predation rate, reptiles
Abstract
Anti-predator mechanisms in snakes are diverse and complex, including mimetic behavior. Some snakes triangulate their head, probably mimicking other more dangerous snakes. However, there is a lack of studies that demonstrate the effectiveness of this behavior with natural predators. The aim of this study was to verify, using artificial snakes, if snakes with triangular heads are less susceptible to attack by predators, and if predatory attack is targeted to the head of serpents. Artificial snakes were systematically arranged on a road border. The rate of attacked models was 48.71%. Number of attacks on models with rounded head was significantly higher than in models with triangular head. There was a significant difference between the places of attack on the snakes in relation to different head shapes. Therefore, snakes that have head triangulation may be a less frequent target of attacks by predators than those without such behavior.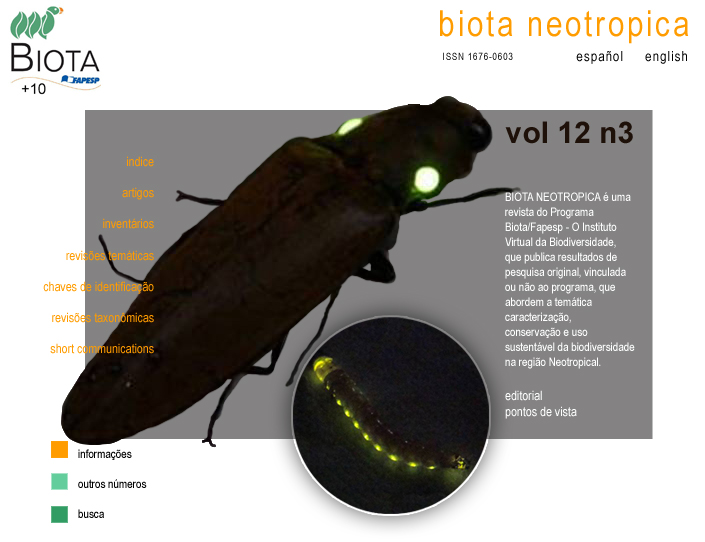 How to Cite
Dell'Aglio, D. D., Toma, T. S. P., Muelbert, A. E., Sacco, A. G., & Tozetti, A. M. (2012). Head triangulation as anti-predatory mechanism in snakes. Biota Neotropica, 12(3). Retrieved from //www.biotaneotropica.org.br/BN/article/view/1010
Section
Short Communications