Lizards of the cerrado areas in the Reserva Biológica Unilavras-Boqueirão, Ingaí, Minas Gerais Southern, Brazil
Keywords:
squamata, Cerrado, gallery forest, rocky fields, Minas Gerais state
Abstract
Studies with emphasis on assessment and quantification of species biological diversity should be recognized as important tools in the process of knowledge, especially where basic data are scarce. This study was conducted at the Reserva Biológica Unilavras-Boqueirão (21º 20' 47" S and 44º 59' 27" W) inserted in the Cerrado, Ingaí municipality, southern Minas Gerais, southeastern Brazil. We aimed to characterize and understand local lizard species. Sampling occurred between June 2008 and February 2010 in weekly excursions during the day in the field. Captures were carried out by means of pitfall traps, distributed in six sets, three in Cerrado sensu stricto and three in the gallery forest, making a sampling effort of 6120 buckets per day. Animals viewed, occasionally found or collected by third parties were also included in the sample. A total of 10 lizard species from seven families were captured. The richest vegetation type was the Cerrado sensu stricto with nine species. Only Heterodactylus imbricatus was restricted to gallery forests, where pitfalls sampled 74.12% of lizards captured. The lizard fauna is well represented in the area with species typical of open areas as Ameiva ameiva, Polychrus acutirostris and Mabuya frenata. The species Urostrophus vautieri and Heterodactylus imbricatus, not yet reported for the Cerrado, were also found in the area.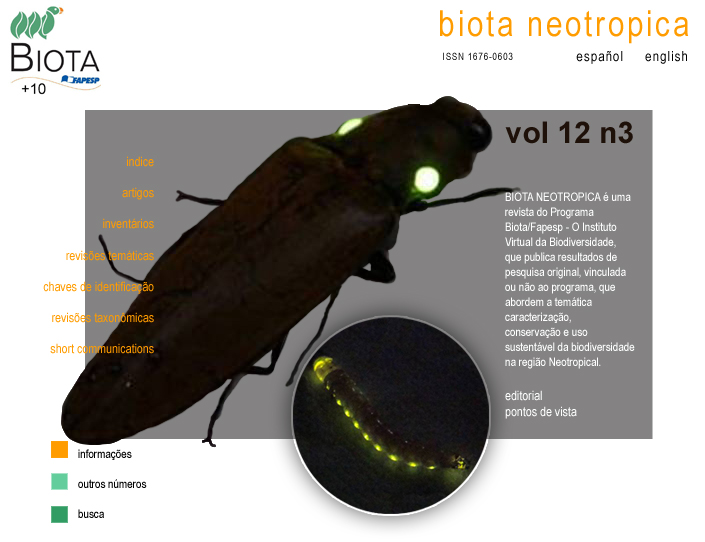 How to Cite
Novelli, I. A., Lucas, P. da S., Carvalho, R. G. de, Santos, R. C., & Sousa, B. M. de. (2012). Lizards of the cerrado areas in the Reserva Biológica Unilavras-Boqueirão, Ingaí, Minas Gerais Southern, Brazil. Biota Neotropica, 12(3). Retrieved from //www.biotaneotropica.org.br/BN/article/view/997