Inventory of the Lamiinae species (Insecta, Coleoptera, Cerambycidae) of the Parque Nacional do Itatiaia, RJ, Brazil
Keywords:
Cerambycidae, Coleoptera, inventory, Atlantic rainforest
Abstract
A survey of the Lamiinae species recorded in the Parque Nacional do Itatiaia, Rio de Janeiro State, Brazil, is presented. The data were based on literature, field work and in the collection of the Museu Nacional, Universidade Federal do Rio de Janeiro. Three hundred and twenty two species of Lamiinae are registered, and this represents about 30% of the species that occur in the Atlantic Rainforest. Forty two new distribution records are registered. One hundred and thirty five species are illustrated. A comparative table showing the respective number of genera and species of Lamiinae that occur in the Neotropical Region, Atlantic Rainforest and Parque Nacional do Itatiaia is given.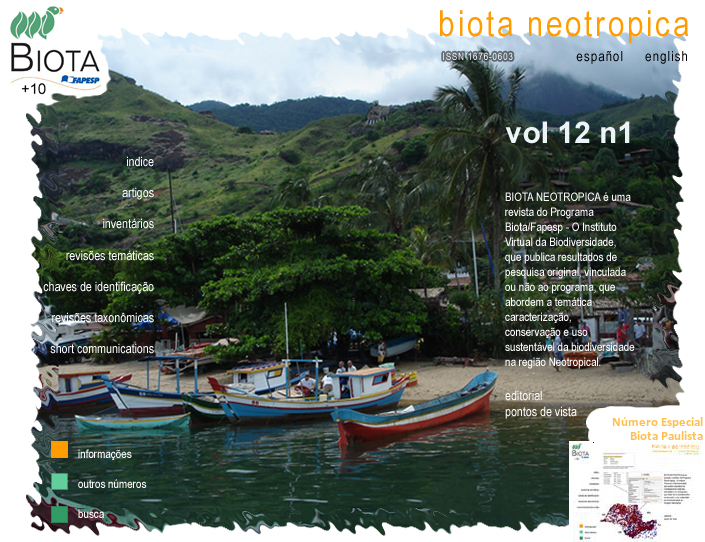 How to Cite
Monné, M. L., Monné, M. A., Quintino, H. Y., Botero, J. P., Machado, V. S., Aragão, A. C., Simões, M. V. dos P., & Cupello, M. (2012). Inventory of the Lamiinae species (Insecta, Coleoptera, Cerambycidae) of the Parque Nacional do Itatiaia, RJ, Brazil. Biota Neotropica, 12(1). Retrieved from //www.biotaneotropica.org.br/BN/article/view/927