Diversity of longhorned beetles (Coleoptera: Cerambycidae) in the Caribbean region of Colombia: temporal variation between two fragments of tropical dry forest
Keywords:
Abundance, biomass, cerambycid, Neotropical, richness, structure
Abstract
Abstract: The tropical dry forest is under constant threat from many anthropic activities which are conducted indiscriminately, modifying the forest, and therefore, affecting species that are closely related to its phenology, such as longhorned beetles (Cerambycidae). The spatio-temporal variation of the cerambycid diversity in two fragments of tropical dry forest (Reserva Campesina la Montaña and La Flecha) in the Caribbean region of Colombia was analyzed. At each locality, four squared plots were delimited, and the beetles were collected with fruit traps, beating sheets and manual capture, and with light traps in the center. Five hundred eighty-seven specimens representing 128 species were collected, of which members of the tribe Ectenessini (Cerambycinae) were the most abundant. At the subfamily level, Cerambycinae was the most abundant (465 specimens) and diverse (73 species), followed by Lamiinae and Prioninae. The highest values of richness (110 species), abundance (428), biomass (21.18 g), and as well as the highest values of true diversity (1D= 73.44, 2D= 34.30) were found during the first precipitations. Regarding beta diversity, temporal variation was determined and mainly explained by a high percentage of turnover (> 70%). Lastly, the high diversity of Cerambycidae was associated with high values of relative humidity and canopy cover during the rainy season. This showed that the structure of the cerambycid community in the tropical dry forest of the Caribbean region of Colombia depends on these variables, which are closely related to precipitation.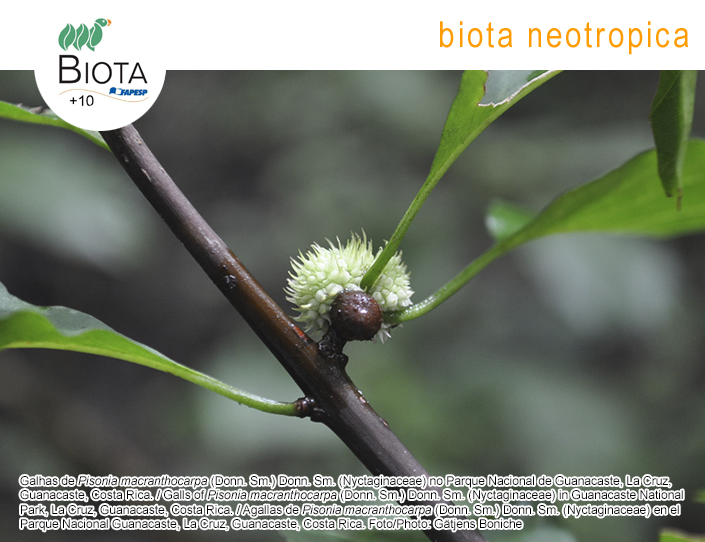 How to Cite
García, K., Martínez, N. J., & Botero, J. P. (2021). Diversity of longhorned beetles (Coleoptera: Cerambycidae) in the Caribbean region of Colombia: temporal variation between two fragments of tropical dry forest. Biota Neotropica, 21(3). Retrieved from //www.biotaneotropica.org.br/BN/article/view/1858