Fruit-feeding butterflies guide of subtropical Atlantic Forest and Araucaria Moist Forest in State of Rio Grande do Sul, Brazil
Keywords:
Atlantic Forest, inventory, field guide, nymphalidae, species richness
Abstract
This study presents a compilation of fruit-feeding butterflies species for Rio Grande do Sul Atlantic Forest aiming to be a tool for identification of these lepidopterans from two phytophysiognomies of this biome. Samples were carried out for more than four years with entomological nets and bait traps techniques in areas of Subtropical Atlantic Forest (SAF) and Araucaria Moist Forest (AMF). Seventy-six butterfly species were recorded in this region of Atlantic Forest, 60 species for SAF and 53 for AMF. Fruit-feeding butterflies represent about 50% of the total species richness of the Nymphalidae recorded for the region, a value of the same order of those found for similar studies in tropical forests regions. Dasyophthalma rusina is a new record for Rio Grande do Sul.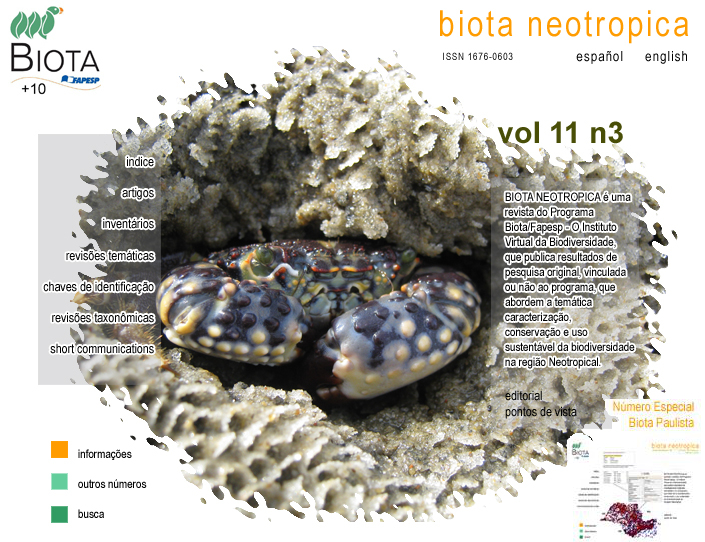 How to Cite
Santos, J. P. dos, Iserhard, C. A., Teixeira, M. O., & Romanowski, H. P. (2011). Fruit-feeding butterflies guide of subtropical Atlantic Forest and Araucaria Moist Forest in State of Rio Grande do Sul, Brazil. Biota Neotropica, 11(3). Retrieved from //www.biotaneotropica.org.br/BN/article/view/853