Anuran fauna of the restinga forest of the Parque Estadual da Ilha do Cardoso, Southeastern Brazil: species composition and breeding site utilization
Keywords:
Anurans, restinga forest, species inventory, conservation, Ilha do Cardoso State Park, Southeastern Brazil
Abstract
The Parque Estadual da Ilha do Cardoso is of great concern to conservation because it includes several coastal ecosystems, like mangroves, sand dunes, restingas, and Atlantic Rainforest, all of them under human pressure since Brazil discovery. The anuran fauna of Brazilian restingas remains poorly known; the discovery of new species and the dificulties to determine the anurans reflect the rarity of studies in these areas. We provide here a updated list of amphibians from the restinga Forest of the Parque Estadual da Ilha do Cardoso. Our inventory was conducted from October 2005 and October 2007, totaling 25 two-days trips. Two methods were applied: visual encounter survey in a 10 ha permanent plot and visual and acoustic survey in nine sites used by anurans for reproduction. The anuran fauna of the study site is composed by 17 species belonging to the families Bufonidae (2 species), Craugastoridae (1), Hylidae (10), Leiuperidae (1), Leptodactylidae (2), and Microhylidae (1). Estimated species richness was 17.77-17.96, which suggests our sampling effort was enough to adequately sample the anuran assemblage present in the area. This richness can be considered high when compared to the richness of other restinga areas, especially those with less structured vegetation. The dominance of the family Hylidae is common to all neotropical localities. None species is included in the lists of endangered species from the state of São Paulo and Brazil, but Aparasphenodon bokermanni is considered Data Deficient by IUCN, and other three species (Dendrophryniscus leucomystax, Haddadus binotatus and Itapotihyla langsdorffii) have decreasing populations. This information reveals the importance of the restinga forest of Ilha do Cardoso to the conservation of anuran populations. A cluster analysis of 14 species that used nine breeding sites resulted in three groups, and the hydroperiod can be considered the major factor influencing the similarities among species. We conclude that preserving water bodies with diferent physiognomies is essential for conserving viable anuran populations.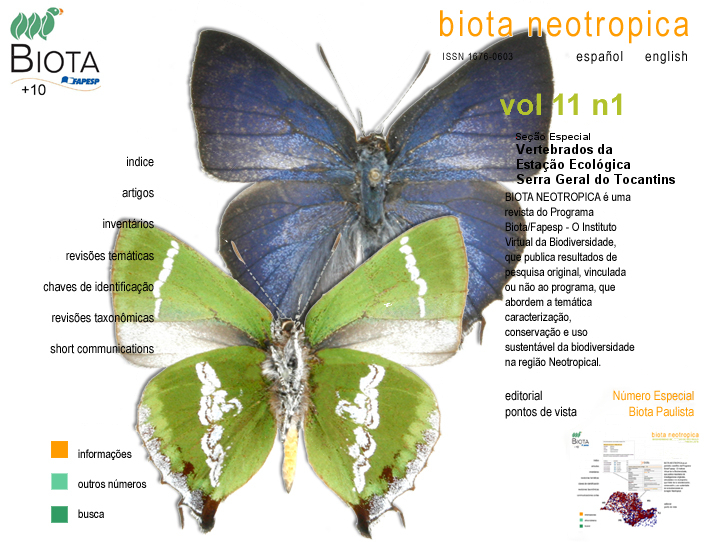 How to Cite
Vilela, V. M. de F. N., Brassaloti, R. A., & Bertoluci, J. (2011). Anuran fauna of the restinga forest of the Parque Estadual da Ilha do Cardoso, Southeastern Brazil: species composition and breeding site utilization. Biota Neotropica, 11(1). Retrieved from //www.biotaneotropica.org.br/BN/article/view/801