Updated compilation of bat species (Chiroptera) for the Brazilian Amazonia
Keywords:
Amazônia Legal, bat species richness, biodiversity inventories
Abstract
Brazil holds nearly 15% of world's bat species richness, and most of it is present in the Amazonian biome. Here we present an updated compilation of bat species for the Brazilian Amazonia, with records of 146 species, belonging to nine families and 64 genera. At least 46 of those species are currently restricted to the Amazonian biome. Pará State is the species richest (120 spp.) and the Amazonian portion of Maranhão the least (21 spp.). Nine species were recorded in all the Amazonian States, and 28 are restricted to a single state. The species list for the region is not yet completed and is very likely that the Brazilian Amazonia holds more than 160 species of bats. We indicated priority areas for inventories in the region, and discuss some factors that can contribute to a further increase in the knwoledge of the regional bat fauna.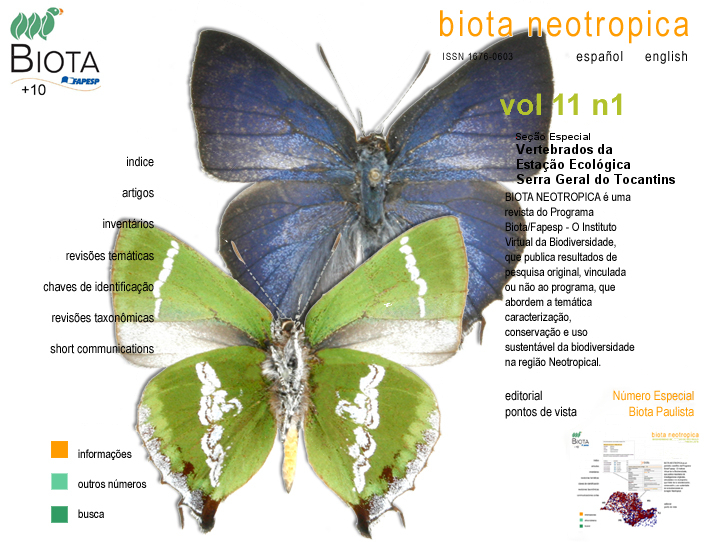 How to Cite
Bernard, E., Tavares, V. da C., & Sampaio, E. (2011). Updated compilation of bat species (Chiroptera) for the Brazilian Amazonia. Biota Neotropica, 11(1). Retrieved from https://www.biotaneotropica.org.br/BN/article/view/796