Fish fauna of small-order streams of savannah and forest fragments landscape in the lower Tapajós River basin, Amazonia
Keywords:
Eastern Amazonia, Headwater streams, Neotropical fish, Riverscapes, Stream fish
Abstract
Abstract: To better understand the fish fauna of Amazonian streams, we assessed small streams in a landscape of forest fragments and savannah in the region of the lower Tapajós River, Brazil. We sampled the fish fauna using a well-tested active capture method during two dry seasons (October 2006 and 2018) and one rainy season (March to May 2018). Species richness was calculated using an abundance matrix and first-order jackknife estimator. Using qualitative and quantitative data, we present a cluster analysis in which each stream corresponds to a sampling unit. We collected 6,094 individuals of 43 species distributed in six orders. The sampling effort represents 73% of the estimated richness (58.69 ± 7.65). The most abundant species were Copella nattereri, Iguanodectes variatus and Laimosemion dibaphus that together represent almost half of the total sample (48.7%). The most frequent species were Aequidens epae, Helogenes marmoratus and Laimosemion dibaphus, which were collected in 11 of the 13 sampled streams. This is the first fish fauna list for small-order streams of savannah and forest fragments landscape in Amazonian Brazil. The richness of fish and the presence of many rare species underscore the contribution of small streams to the regional fish fauna composition, even in dynamic and spatially restricted landscapes.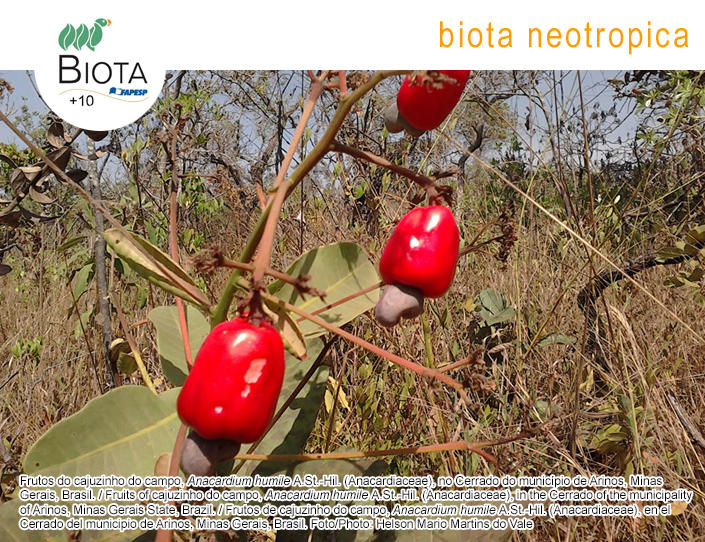 How to Cite
Fróis, R. de P. da S., Ribeiro, B. O., Zuanon, J., & Mortati, A. F. (2021). Fish fauna of small-order streams of savannah and forest fragments landscape in the lower Tapajós River basin, Amazonia. Biota Neotropica, 21(4). Retrieved from //www.biotaneotropica.org.br/BN/article/view/1855