Lepidopterofauna (Papilionoidea e Hesperioidea) of the Parque Estadual do Chandless and surroundings, Acre, Brazil
Keywords:
amazonian forest, butterflies, inventory, protected area
Abstract
Given the absence of Lepidoptera inventories in the State of Acre and its scarcity in the Brazilian Amazon forest, this study aimed to list the species of Hesperioidea and Papilionoidea present in the Parque Estadual do Chandless and surroundings. The access to the region is complicated and it has no infrastructure for scientific research. During 14 days, the butterflies were collected with entomological nets, traps and Ahrenholz's technique in different environments in the park and its surroundings. A total of 482 species were identified, none of them present in red lists of endangered species. It is expected a significantly greater number of species after the addition of new collections in other seasons, as the Jacknife 1 estimate does not reach its asymptote, or as compared to inventories in nearby areas that list nearly 1700 species after a greater sampling effort.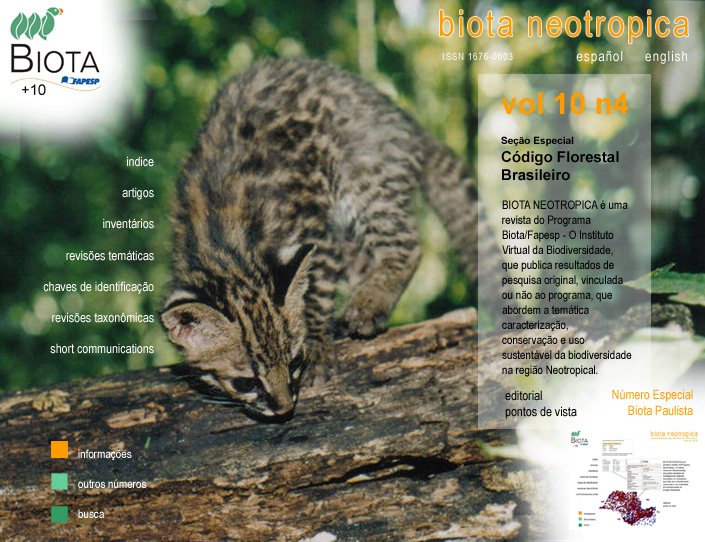 How to Cite
Mielke, O. H. H., Carneiro, E., & Casagrande, M. M. (2010). Lepidopterofauna (Papilionoidea e Hesperioidea) of the Parque Estadual do Chandless and surroundings, Acre, Brazil. Biota Neotropica, 10(4). Retrieved from https://www.biotaneotropica.org.br/BN/article/view/742