Butterflies (Lepidoptera: Papilionoidea and Hesperioidea) of the Parque Ecológico João Vasconcelos Sobrinho, Caruaru, Pernambuco, Brazil
Keywords:
inventory, conservation, species richness, semi-arid vegetation
Abstract
Comprising a natural reserve with 359 ha of "montane forest" inserted on the Brazilian semi-arid, the Parque Ecológico João Vasconcelos Sobrinho (PEJVS), locally known as "Brejo dos Cavalos" is currently under high anthropogenic pressure. A list of 197 species of butterflies belonging to six families is presented, being 59 species of Hesperiidae, 4 of Papilionidae, 18 of Pieridae, 17 of Lycaenidae, 12 of Riodinidae and 87 of Nymphalidae. The butterfly community was composed mainly by widespread species commonly found in open habitats. There were also many species typical of forested areas such as Scada karschina delicata Talbot, 1932 (Danainae: Ithomiini), which is an endangered butterfly.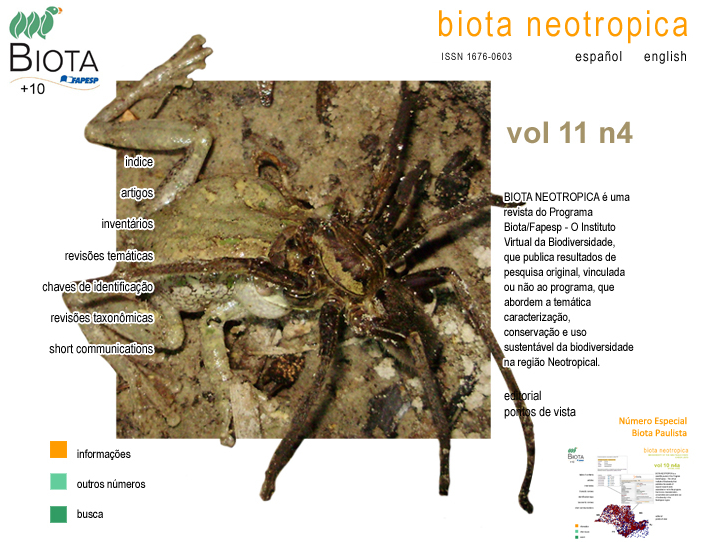 How to Cite
Paluch, M., Mielke, O. H. H., Nobre, C. E. B., Casagrande, M. M., Melo, D. H. A., & Freitas, A. V. L. (2011). Butterflies (Lepidoptera: Papilionoidea and Hesperioidea) of the Parque Ecológico João Vasconcelos Sobrinho, Caruaru, Pernambuco, Brazil. Biota Neotropica, 11(4). Retrieved from //www.biotaneotropica.org.br/BN/article/view/881