Oligochaeta (Annelida: Clitellata) in headwater streams of the Parque Estadual de Campos do Jordão (São Paulo - Brazil)
Keywords:
aquatic oligochetes, mountain streams, species inventory, Campos do Jordão State Park - SP
Abstract
This study inventoried stream oligochaetes of the Campos do Jordão State Park (CJSP), São Paulo, Brazil. A total of 2302 individuals of three families (Naididae, Enchytraeidae, Turbificidae) were obtained. Seventeen species were inventoried: Achaeta sp., Allonais paraguayensis, Chaetogaster diastrophus, Nais communis, Nais variabilis, Pristina biserrata, Pristina leidyi, Pristina proboscidea, Pristinella jenkinae, Pristinella longidentata, Pristinella minuta, Pristinella notopora, Pristinella osborni, Pristinella sima, Aulodrilus limnobius, Bothrioneurum sp., and Limnodrilus hoffmeisteri. The total number of species found represents 24% of all oligochaetes species (70) recorded in diverse aquatic environments in Brazil, making this inventory very important given the poor knowledge of this group in Brazil.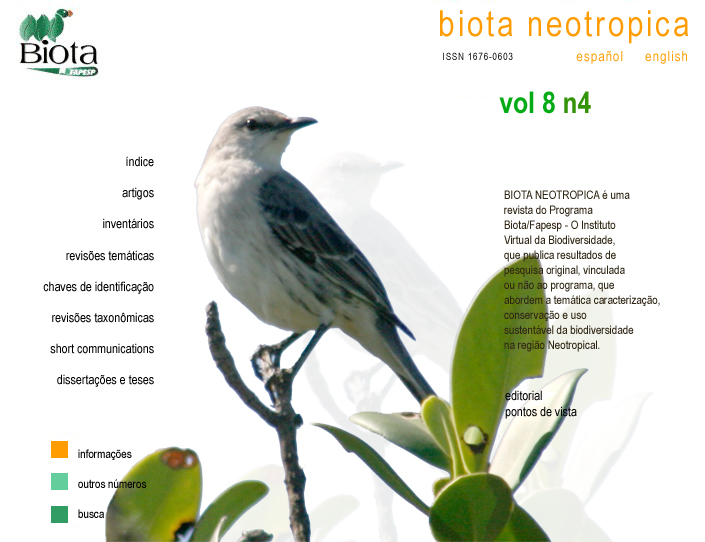 How to Cite
Gorni, G. R., & Alves, R. da G. (2008). Oligochaeta (Annelida: Clitellata) in headwater streams of the Parque Estadual de Campos do Jordão (São Paulo - Brazil). Biota Neotropica, 8(4). Retrieved from //www.biotaneotropica.org.br/BN/article/view/449