Inventory and distribution of Oligochaeta (Annelida, Clitellata) in first-order streams in preserved areas of the state of Minas Gerais, Brazil
Keywords:
biodiversity, Rock Fields, Atlantic Forest, Naididae, litter, oligochaetes, Enchytraeidae
Abstract
Data resulting from species inventories shed light on the richness and distribution of various groups. In Minas Gerais, work on inventory and distribution of the oligochaetes of lotic environments in preserved areas are non-existent. Therefore, this study aimed to inventory the limnic oligochaetes fauna of first-order streams located in four preserved areas, to expand knowledge of the ecology and distribution of this group. In total, 19 taxa were inventoried, belonging to the families Naididae and Enchytraeidae and the superorder Megadrili (earthworms), with the genus Pristina having the largest number of species. The number of species found in this investigation corresponds to 22% of oligochaetes species recorded in Brazilian aquatic environments. The results obtained add important knowledge of the distribution of some oligochaetes species in Brazil, represent the first records of species for the four preserved areas studied and confirm the first occurrence of various species in the state.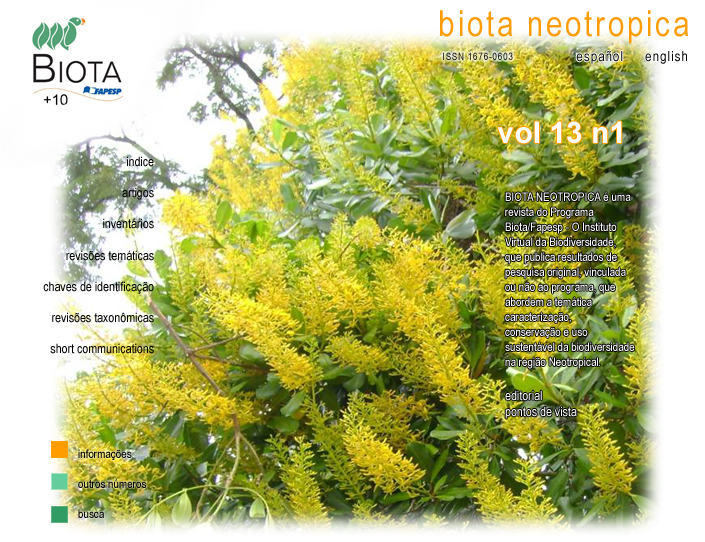 How to Cite
Rodrigues, L. F. T., Leite, F. S., & Alves, R. da G. (2013). Inventory and distribution of Oligochaeta (Annelida, Clitellata) in first-order streams in preserved areas of the state of Minas Gerais, Brazil. Biota Neotropica, 13(1). Retrieved from //www.biotaneotropica.org.br/BN/article/view/1071