The use of sandy beaches with different concentration of humans by Nearctic shorebirds (Charadriidae and Scolopacidae) in southeastern Brazil
Keywords:
human disturbance, sandy beaches, Scolopacidae, shorebirds
Abstract
Migratory birds may recognize humans and domestic animals as potential predators. Thus, their abundance and behavior in flock formation may change in areas with high human concentration. This study compared the abundance of Nearctic migratory birds, the frequency of their flocks and the average number of birds per flock at high and low human concentration areas in a coastal region in southeastern Brazil. Birds, humans and domestic dogs were counted monthly between November 2006 and April 2007. Six bird species (Ruddy Turnstone Arenaria interpres, Sanderling Calidris alba, Red Knot Calidris canutus, Semipalmated Sandpiper Calidris pusilla, Semipalmated Plover Charadrius semipalmatus, and American Golden-Plover Pluvialis dominica) were recorded. Only Red Knot were restricted to the low human concentration area. The average number of humans and domestic dogs differed between areas with different levels of disturbance, whereas no difference on the average number of birds was detected. There were no correlation between number of humans and birds, nor between domestic dogs and birds. Additionally, the frequency of flocks and average number of birds per flock did not vary significantly between the areas. These results highlighted the sensibility of Red Knot in the high human concentration area as well as the need to find out, in future investigations, the maximum concentration of people and domestic dogs that birds can tolerate in human occupied areas to employ conservation efforts in preserving Nearctic shorebirds.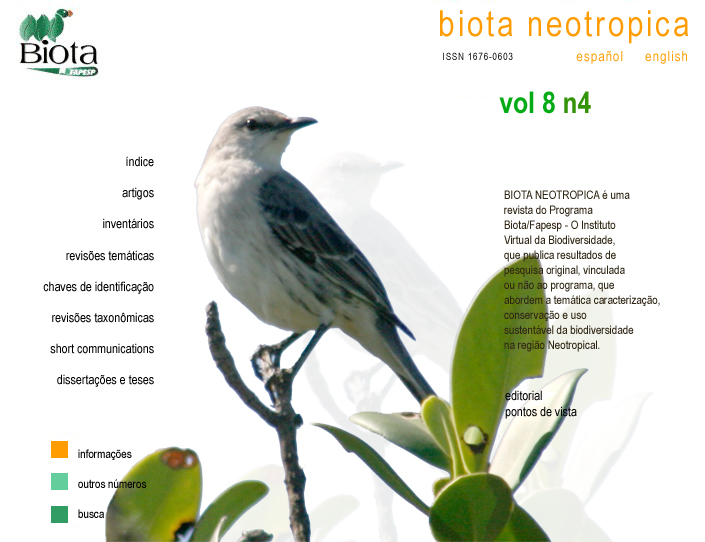 How to Cite
Cestari, C. (2008). The use of sandy beaches with different concentration of humans by Nearctic shorebirds (Charadriidae and Scolopacidae) in southeastern Brazil. Biota Neotropica, 8(4). Retrieved from https://www.biotaneotropica.org.br/BN/article/view/442