Frugivory by the White-bearded Manakin (Manacus manacus, Pipridae) in restinga forest, an ecosystem associated to the Atlantic forest
Keywords:
dispersion, fruits, animal-plant interaction, seeds
Abstract
Manakins (Pipridae) are one of the most abundant fruit-eaters and seed dispersers in the understory of neotropical forests. We describe the fruit diet of the White-beaded Manakin (Manacus manacus) based on a two-year study of its foraging behavior on fruiting plants, collecting seeds from feces and regurgitations of trapped individuals, and from lekking males' courts in restinga forests at the southern coast of the state of São Paulo, Brazil. Manacus manacus consumed 58 species of fruits from 30 different plant families. Fruits were taken at 3.5 ± 1.9 m height and 1.5 ± 1.6 m below the forest canopy using mainly sally-strike and glean manoeuvres. Most of the fruits were berries ranging from 3.1 to 17 mm in diameter and containing from 1 to 86 seeds. Fruits up to 12 mm in diameter were swallowed whole. Ripe and unripe fruits were equally consumed. Our results corroborate with the great variety of small fruits consumed by manakin species, and indicate that M. manacus is an important seed disperser, potentially contributing to recruitment of plants in restinga.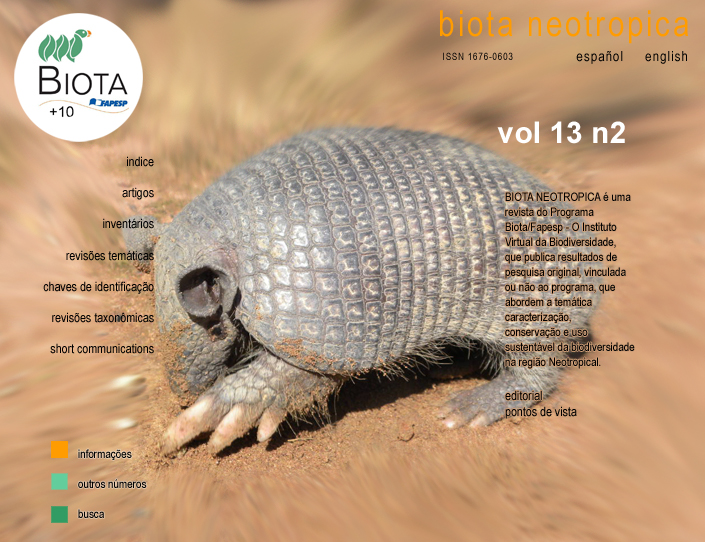 How to Cite
Cestari, C., & Pizo, M. A. (2013). Frugivory by the White-bearded Manakin (Manacus manacus, Pipridae) in restinga forest, an ecosystem associated to the Atlantic forest. Biota Neotropica, 13(2). Retrieved from https://www.biotaneotropica.org.br/BN/article/view/1190
Section
Short Communications