The use of dead stand trees by birds: a prospective study in a Brazilian hydroelectric dam
Keywords:
Behavior, Birds, Hydropower building, Human impact
Abstract
Abstract: Hydropower constructions cause severe disturbances to biodiversity. Arboreal plants die after flooding; however, they expose their emerged branches (also called paliteiros) as a new habitat for animals and plants. Nothing is known about how paliteiros influence the presence of aquatic birds. This study verified which species of birds use the paliteiros, what are their behaviors and probably consequences to ecological processes. In November 2018, we sampled 5 km of paliteiros recording perched birds and their behaviors in the Três Marias dam, a 1040 km2 flooded area in southeastern Brazil. In total, 5.4% of paliteiros were used by 14 bird species. The Neotropic Cormorant Nannopterum brasilianus (Gmelin, 1789) was the most frequent species. Birds mainly preened feathers; they also rested (with no apparent activity), defecated, hunted, fed, vocalized and drank water. Attention must be focused to some behaviors such as resting and defecation, which may influence long-term ecological processes (e.g., incorporating additional organic matter and changing aquatic community) in the dam.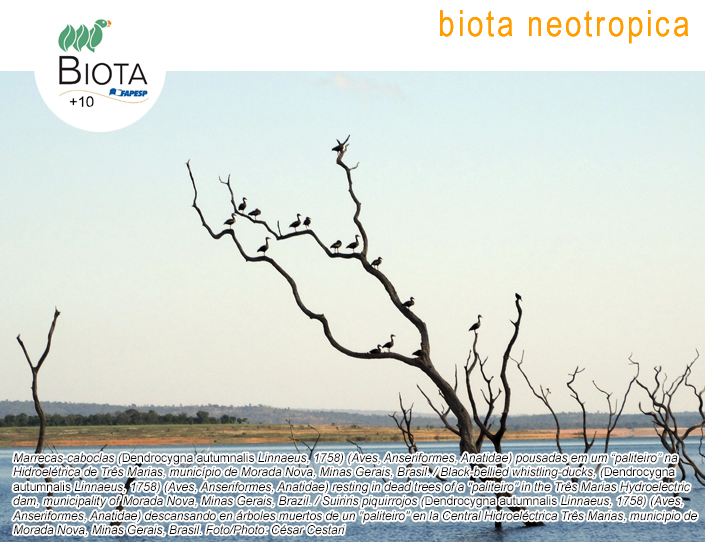 How to Cite
Oliveira, A. C. de, Centeno, E., Assis, J. de R., Bomfim, P. M. S., & Cestari, C. (2020). The use of dead stand trees by birds: a prospective study in a Brazilian hydroelectric dam. Biota Neotropica, 20(3). Retrieved from https://www.biotaneotropica.org.br/BN/article/view/1734
Section
Short Communications