New records of Monstrilloida Sars, 1901 (Crustacea: Copepoda) from Rio Grande do Norte (northeastern coast of Brazil)
Keywords:
zooplankton, copepods, southwest atlantic, brazilian coast, Monstrilla, Cymbasoma
Abstract
During a series of zooplankton surveys carried out during 1984, off the south coast of the state of Rio Grande do Norte, Brazil, several species of monstrilloids were present in the samples. A total of 50 individuals of monstrilloid copepods were collected. These belong to four species (Monstrilla brasiliensis Suárez-Morales & Dias, Cymbasoma cf. longispinosum, Cymbasoma cf. rigidum, and Cymbasoma gracilis Gurney). The taxonomic complexes formed by the species C. cf. longispinosum and C. cf. rigidum in Brazilian waters are discussed. The lengths of the specimens are provided in order to contribute to studies and revisions of the specimens belonging to these species-complexes. The species Monstrilla brasiliensis is recorded for the first time in the Rio Grande do Norte coastal region, thus expanding its geographical range in the Brazilian northeastern coast. The results presented herein increase to four the number of species of Monstrilloida known from off Rio Grande do Norte state.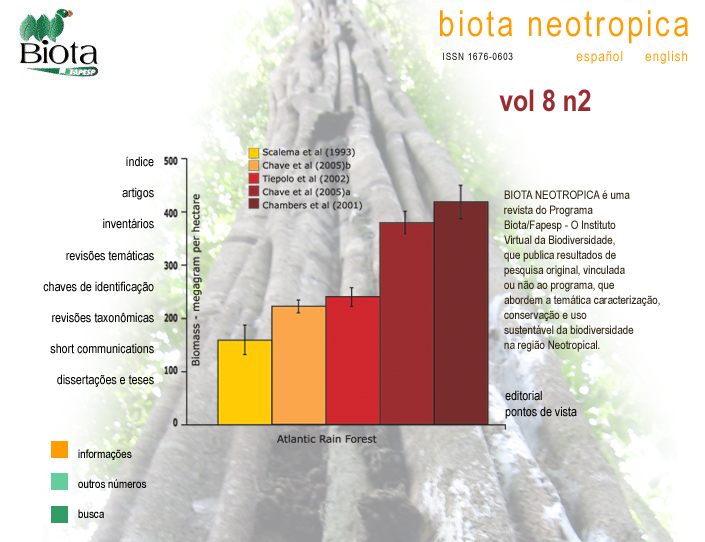 How to Cite
Dias, C. de O., Medeiros, G. F. de, & Bonecker, S. L. C. (2008). New records of Monstrilloida Sars, 1901 (Crustacea: Copepoda) from Rio Grande do Norte (northeastern coast of Brazil). Biota Neotropica, 8(2). Retrieved from https://www.biotaneotropica.org.br/BN/article/view/409
Section
Short Communications