New records of Monstrilloida Sars, 1901 (Crustacea, Copepoda) on the Brazilian northeastern coast
Keywords:
new occurrence, zooplankton, Southwest Atlantic, Brazilian coast, Bahia, taxonomy
Abstract
During a series of zooplankton surveys carried out from 2001 through 2005 off the coast of the state of Bahia, Brazil, 98 individuals of monstrilloid copepods were collected. These belong to five species (Monstrilla grandis, Cymbasoma cf. longispinosum, Cymbasoma cf. rigidum, Cymbasoma gracilis, and Cymbasoma quadridens). The first three are recorded for the first time in the Bahia coastal region. The geographical range of C. quadridens is expanded to the Brazilian northeastern coast. The results presented herein increase to nine the number of nominal species of Monstrilloida known from off Bahia; the environmental diversity of Caravelas Channel with highly productive areas and coral reef zones harbor an abundant and diverse monstrilloid fauna that should be surveyed in more detail.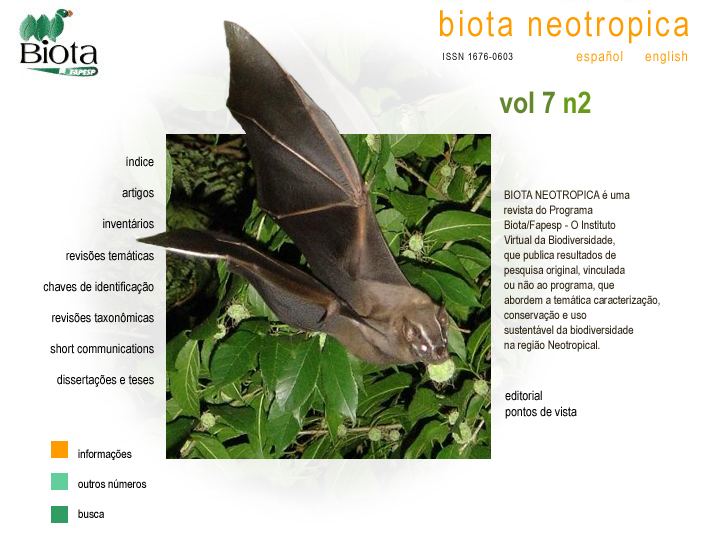 How to Cite
Dias, C. de O., & Bonecker, S. L. C. (2007). New records of Monstrilloida Sars, 1901 (Crustacea, Copepoda) on the Brazilian northeastern coast. Biota Neotropica, 7(2). Retrieved from //www.biotaneotropica.org.br/BN/article/view/306
Section
Short Communications