Anurans of remnants of Atlantic forest of São José do Barreiro municipality, São Paulo State, Brazil
Keywords:
amphibia, conservation, species richness, serra da Bocaina
Abstract
The municipality of São José do Barreiro (SP) located in the Atlantic Forest Domain, at elevations between 480 and 2088 m above sea level, exhibit ample topografic and climatic complexity that result in the presence of severals phytophysionomies with High Mountain Grasslands, Seasonal Semideciduous Forest, Tropical Rainforest, and Araucaria Forest. The aim of this study was to verify the anuran species richness in two different forest habitats in this area, one in a Seasonal Semideciduous Forest and the other in a Tropical Rainforest. Animals were collected by active search from April 2004 to December 2006. In the studied period, we registered 35 anuran species in nine families. The anuran richness observed in the studied region is similar to other localities considered preserved, as the Estação Ecológica Juréia-Itatins (Peruíbe, SP) and Serra do Japi (Jundiaí-SP). The similarity in species composition among seven localities in Atlantic Forest in São Paulo state was associated to the vegetal types of the studied areas. The ample altitude variation, the presence of different types of vegetation, and the little knowledge of the local fauna in this region, make the surveys very important to support future studies on species conservation.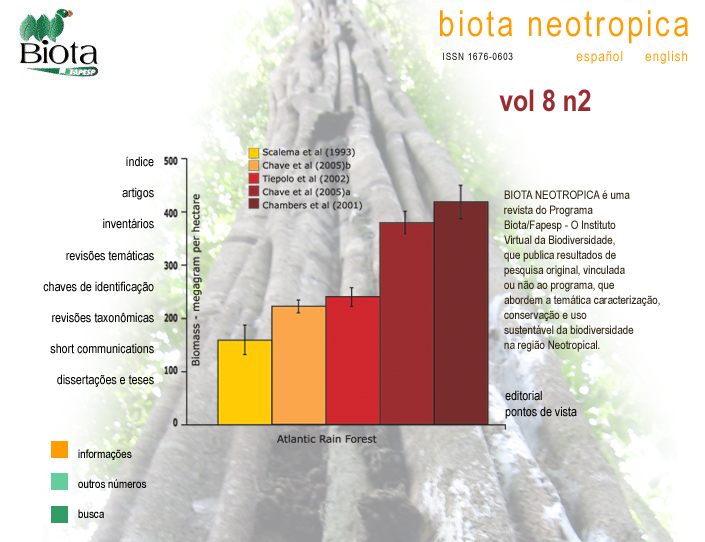 How to Cite
Serafim, H., Ienne, S., Cicchi, P. J. P., & Jim, J. (2008). Anurans of remnants of Atlantic forest of São José do Barreiro municipality, São Paulo State, Brazil. Biota Neotropica, 8(2). Retrieved from https://www.biotaneotropica.org.br/BN/article/view/395